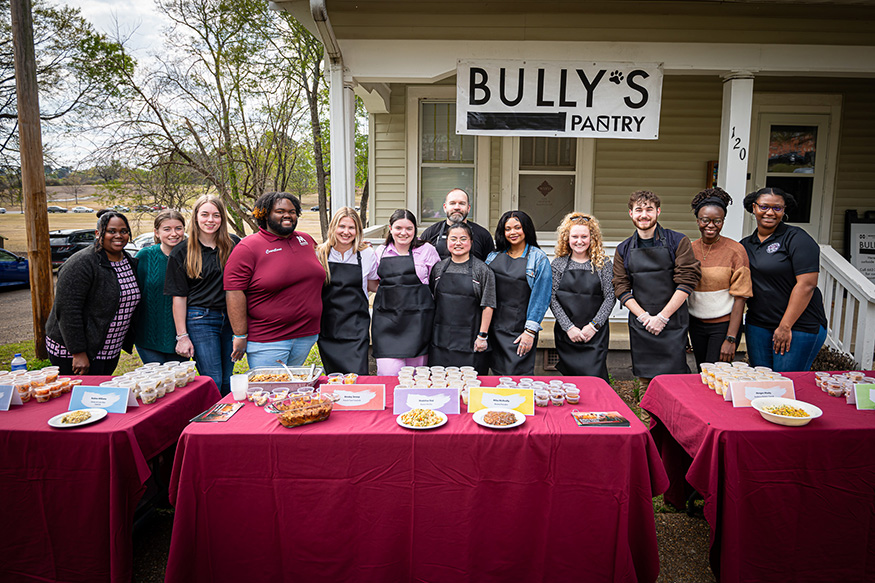 Contact: Kathleen Forman
STARKVILLE, Miss.—Ramen noodles and Pop-Tarts are quick and easy food items for college students, but creating a nutritious meal requires a little more effort. Mississippi State food science students have embraced the challenge this spring to create inspired, tasty dishes using food pantry staples.
Students in MSU's New Food Product Development class were tasked with developing recipes using ingredients that can be found at Bully's Pantry, a campus food pantry dedicated to meeting the needs of MSU students facing food insecurity.
"My favorite part of this was that we were able to help college-aged students. A lot of these recipes are ones that any college student can cook, whether it be in a dorm or off-campus apartment, and the ingredients are available in Bully's Pantry," said Ainsley Jessup, an Illinois native and senior food science, nutrition and health promotion major who developed a French toast casserole.
In this capstone course led by Assistant Professor of Food Science, Nutrition and Health Promotion Shecoya White, students focused the first half of the spring semester brainstorming menu ideas. After finalizing their choices, students created many variations of their dish and received feedback from White and fellow classmates. Ninety percent of the recipe ingredients were required to be commonly found food items and ingredients at Bully's Pantry.
"This course takes all the skills students have learned in classes such as food preservation, quality assurance and food chemistry, and combines these skills to help students create an original product," said White.
White was assisted in this collaborative project by Randi Elam, a senior psychology major and Community-Engaged Learning ambassador. Together they planned the final product showcase, hosted at Bully's Pantry. At the event, students displayed their dishes, offered food samples to attendees, and discussed their recipe book, which includes detailed instructions and photos and is available at Bully's Pantry and from the department.
In addition to developing and sharing recipes, students volunteered at Bully's Pantry throughout the semester.
"It was really beneficial to have people come to the event and talk to students about their products," said White. "They took great pride in what they had created, and it's rewarding to see the smile on someone's face who needs these resources." 
For more information on the Department of Food Science, Nutrition and Health Promotion in the College of Agriculture and Life Sciences, visit www.fsnhp.msstate.edu.
Mississippi State University is taking care of what matters. Learn more at www.msstate.edu.