Contact: Vanessa Beeson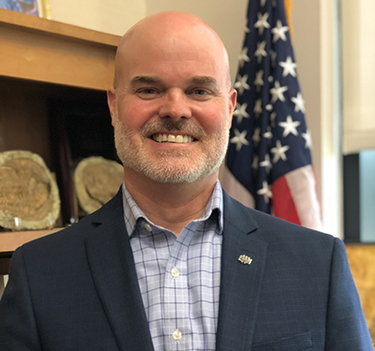 STARKVILLE, Miss.—Mississippi State's Waldorf Lecture on the Environment Wednesday [April 12] features Todd Bridges, a nationally renowned expert on developing nature-based engineering solutions.
Bridges presents "Engineering with Nature for a More Resilient and Sustainable Future," at 2 p.m. in Dorman Hall, Room 140. The event is part of MSU's Environmental Science program, which spans several colleges including the College of Agriculture and Life Sciences.
Scott Willard, CALS dean and Mississippi Agricultural and Forestry Experiment Station director, said Bridges is a national expert spearheading engineering initiatives designed to work symbiotically with natural systems.
"Dr. Bridges, who founded the U.S. Army Corps' Engineering with Nature program in 2010, has a long history of aligning engineering and natural resources to create resilient and sustainable infrastructure systems that provide economic, environmental and social benefits," Willard said.
In addition to CALS, the interdisciplinary Environmental Science program includes the College of Arts and Sciences, Bagley College of Engineering, College of Forest Resources, College of Veterinary Medicine and the MSU Office of Sustainability.
Bridges served as the senior research scientist for environmental science for the U.S. Army and the U.S. Army Corps of Engineers for 17 years before becoming an engineering professor at the University of Georgia in 2023. In addition to founding the Engineering with Nature, or EWN, program, he led a five-year collaboration to establish international guidelines on natural and nature-based features for flood risk management. Bridges and the EWN program were contributors to the 2022 White House report "Opportunities to Accelerate Nature-Based Solutions: A Roadmap for Climate Progress, Thriving Nature, Equity and Prosperity." In 2021, he received the Presidential Rank Award from President Biden for exceptional leadership, accomplishments and service.
The Waldorf Lecture on the Environment is made possible by Elizabeth Waldorf and the late David Waldorf, who both shared a passion for environmental conservation. David, a physicist and native of Montana, and Elizabeth, a zoologist and Mississippi native, received doctoral degrees from Ohio State University. After postdoctoral research at the University of Nottingham in England, they conducted research and taught at LSU, Lasell College, Northeastern University and Mississippi Gulf Coast Community College. The Waldorfs retired from MGCCC in 2002 and 2003, respectively. Continuing to uphold their passion, they chose to invest in environmental science scholarships at MSU to help students attain educational backgrounds to help them in fighting the critical environmental issues of today.
For more on MSU's Environmental Science program, visit www.ens.msstate.edu.
MSU is Mississippi's leading university, available online at www.msstate.edu.