Contact: James Carskadon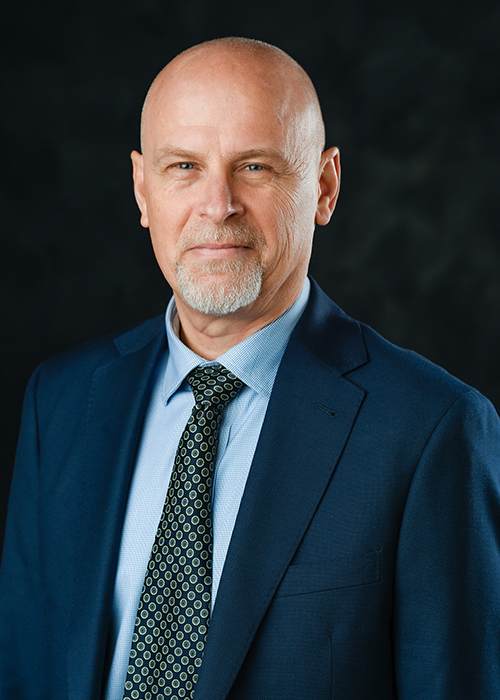 STARKVILLE, Miss.—Rob Premo is now leading Mississippi State University's Raspet Flight Research Laboratory, one of the country's leading academic research centers dedicated to the advancement of uncrewed aircraft systems. 
Premo joined MSU in January as director of the MSU Center for Cyber Innovation after garnering more than 30 years of federal experience with the U.S. Marine Corps and the Missile Defense Agency. He will continue to serve as director for the Center for Cyber Innovation while taking on the interim role at Raspet.
"Rob brings extensive experience in leadership and strategic program management to our research enterprise, and I appreciate him stepping up to lead the Raspet team," said MSU Vice President for Research and Economic Development Julie Jordan. "Raspet has a dynamic team that is working every day with state and federal partners to develop solutions for uncrewed aircraft systems and further their integration into the national airspace. I know that momentum will continue under Rob's leadership." 
Prior to joining MSU, Premo served as program director for the Missile Defense Agency's Advanced Programs and concept exploration portfolio, where he oversaw the rapid delivery of advanced capabilities to warfighters. He has served in various roles with the Huntsville-based agency since 2009. His 20 years in the Marines included multiple deployments in support of combat and contingency operations, as well as multiple staff tours. He earned a bachelor's degree in nuclear engineering from the University of Arizona and is a graduate of the Marine Corps Amphibious Warfare School and the Marine Corps Command and Staff College.  
Boasting the country's largest university-based fleet of uncrewed aircraft systems, Raspet last fall marked another milestone by unveiling the Teros, an 1,800-pound UAS capable of flying for up to 24 hours continuously in support of research and emergency response objectives. Raspet is a key partner in the MSU-led Alliance for System Safety of UAS through Research Excellence, or ASSURE, the FAA's Center of Excellence for UAS. Working in collaboration with MSU faculty, students and other research centers, Raspet leads major UAS research, testing and evaluation efforts on behalf of the U.S. Departments of Homeland Security and Defense. In 2020, Raspet was designated as the FAA's UAS Safety Research Facility. 
For more on the Raspet Flight Research Lab, visit www.raspet.msstate.edu.
Mississippi State University is taking care of what matters. Learn more at www.msstate.edu.