Contact: Aspen Harris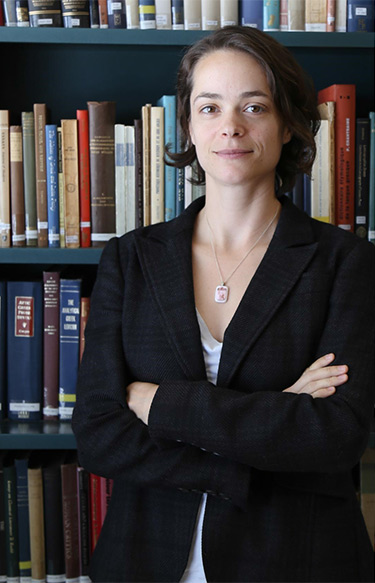 STARKVILLE, Miss.—Rose MacLean, associate professor of classics at the University of California-Santa Barbara, will be the featured speaker in Mississippi State's Department of Classical and Modern Languages and Literatures Distinguished Lecturer Series this week.
Sponsored by MSU's Judy and Bobby Shackouls Honors College and the Cobb Institute of Archaeology, MacLean's lecture, "Slavery, Freedom and Geographic Mobility in the Roman Empire," will be held Friday [April 21], 4 p.m., in Lee Hall Room 0003.
Free and open to the public, MacLean's lecture focuses on the impact of geographic mobility on the social status and experiences of the enslaved and freed people who worked in the Roman imperial bureaucracy.
MSU Associate Professor of Classical and Modern Languages and Literatures Sol Pelaez said of MacLean, "Drawing on a range of literary and epigraphic sources, she argues that mobility—together with wealth and political influence—elevated the prestige of these individuals while simultaneously challenging their ability to form stable families." Pelaez is chair of the CMLL speaker series.
MacLean researches the cultural history of the Roman Empire and its interactions between the ruling elite and groups at the social and political margins. Her other interests include ancient and modern slavery, Latin imperial literature and epigraphy.
She authored "Freed Slaves and Roman Imperial Culture: Social Integration and the Transformation of Values," a 2018 Cambridge University Press publication that examines the cultural dialogue between the Roman aristocracy and former slaves.
MacLean received her Ph.D. from Princeton in 2012 and taught for a year at the University of Cincinnati before becoming a faculty member at UCSB.
For more on MSU's Shackouls Honors College and the Cobb Institute of Archaeology, visit www.honors.msstate.edu and www.cobb.msstate.edu, respectively.
Part of MSU's College of Arts and Sciences, the CMLL department is online at www.cmll.msstate.edu.
MSU is Mississippi's leading university, available online at www.msstate.edu.