Contact: Carl Smith
STARKVILLE, Miss.—Twelve Mississippi State employees are being honored for their dedication to service with this year's Donald W. Zacharias Distinguished Staff Awards.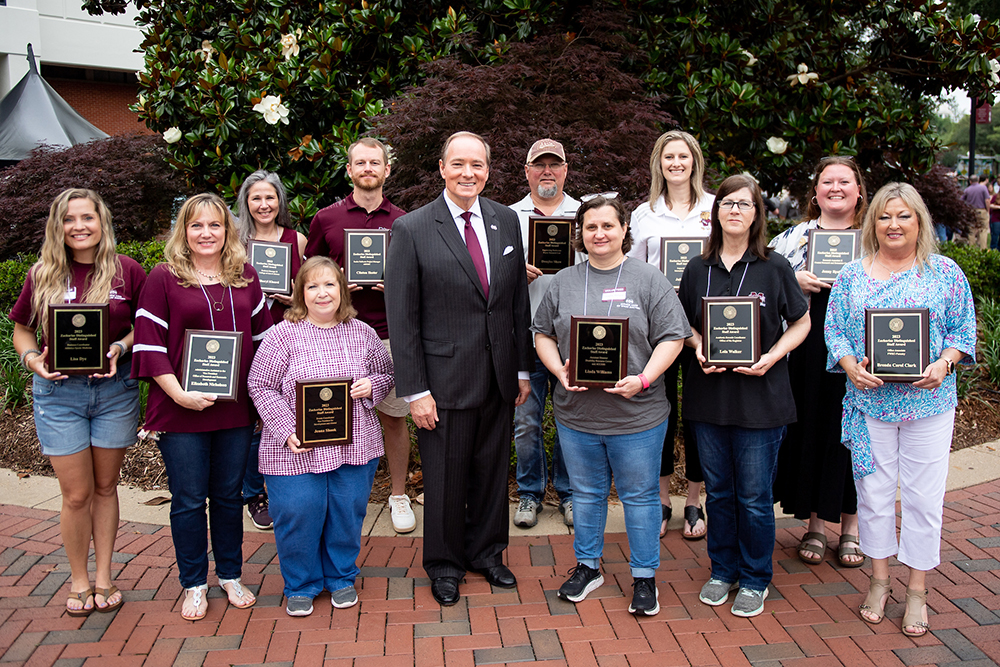 The awards, given in honor of the university's 15th president, were given during today's [May 19] Staff Appreciation Day by MSU President Mark E. Keenum. The annual event is organized by the MSU Staff Council.
To be eligible, award nominees must be classified as a professional or support staff employee working at least half time and with a minimum of three years of campus service, among other criteria.
This year's Zacharias Distinguished Staff Award honorees are:
—Brenda Clark, office associate, Northwest Mississippi Extension Forestry Office
—Lisa Dye, business coordinator, Department of Athletics' Sports Medicine and Performance unit
—Clint Hester, senior software project manager, nSPARC
—Sheryl Kinard, business manager II, College of Arts and Sciences
—Elizabeth Nicholson, administrative assistant to the vice president, Office of Research and Economic Development
—Jenny Ryals, research associate II, South Mississippi Branch Experiment Station
—Douglas Shaw, engineering technician, Prairie Research Unit
—Jenna Shook, events coordinator, Division of Development and Alumni
—Julie Sims, project manager, International Institute
—Gina M. Studley, inventory control assistant, Air Force ROTC
—Lola "Tookie" Walker, academic records coordinator, Office of the Registrar
—Linda "Christine" Williams, assistant director, Disability Resource Center and ACCESS program
MSU is Mississippi's leading university, available online at www.msstate.edu.