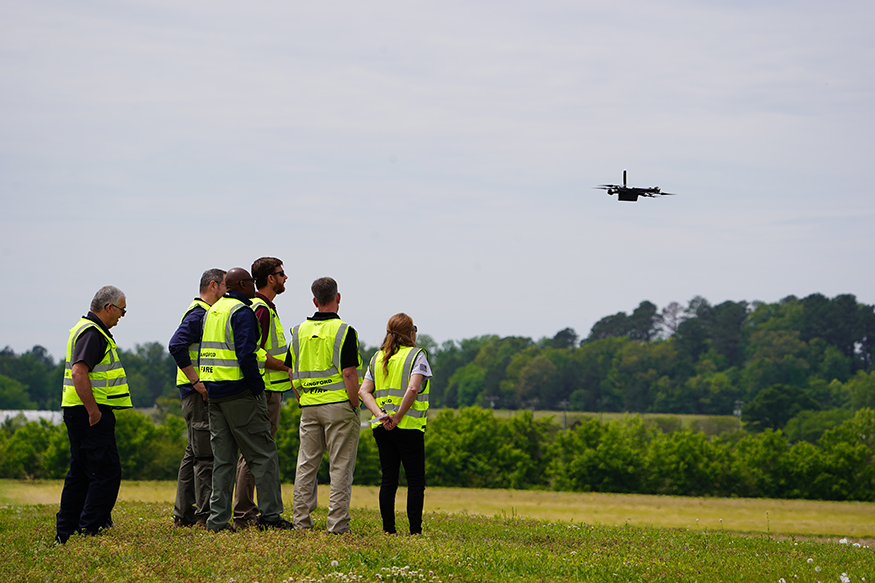 Contact: Nicole Thomas
STARKVILLE, Miss.— First responders—often the fastest to the scene of an emergency or disaster—are now more proficient and effective in piloting small uncrewed aircraft systems with the aid of two Mississippi State-based research divisions.
Nine agencies across three states recently sent their first responders to MSU's Raspet Flight Research Laboratory for an intensive, hands-on training program which is in partnership with the MSU-led Alliance of System Safety of UAS through Research Excellence, or ASSURE, and the Federal Emergency Management Agency.
Dubbed "ASSUREd Safe," the UAS education initiative includes six ASSURE-member universities which will lead two trainings this year and three in 2024 for a total of 36 over the next two years.
"UAS technology has the power to save lives," said Raspet Flight Lab Director Rob Premo. "This training is an investment in our first responder community, ensuring they are well-equipped to respond to hazardous or dangerous situations and improving their safety and effectiveness when called to action."
During the first, two-day flight exercise led by Raspet pilots at MSU's North Farm, first responders practiced maneuvers along a designated flight path using an established test lane to evaluate efficiency and accuracy and to improve situational awareness.
"It's the difference between not knowing how big this grass fire is and knowing where it ends," said Therese Apel, an exercise participant and volunteer firefighter from Rankin County. 
"With reliable, dependable and affordable UAS technologies readily available on the market, the use of drones among first responders has steadily increased in recent years along with the need for standards-based training," said David Battaly, associate director of ASSURE.
Jarred Payne, a West Virginia detective who traveled to Mississippi to sharpen his skills as a drone pilot, said his department regularly deploys drones to support public safety. 
"We use them for suspect apprehensions, search-and-rescue missions, disaster recovery and crash reconstruction," said Payne.
In Oktibbeha County, volunteer firefighter Laura Grace said her department has been called to help locate a missing person twice in the last month. With the help of drone technology, the search team was able to find both individuals lost in the woods before weather conditions deteriorated.  
To increase access to UAS education, the courses are offered at no cost to first responders. Other ASSURE universities hosting training events to reach their local first responder community are Kansas State University, New Mexico State University, University of North Dakota, University of Vermont and Sinclair College. MSU will host its second training this fall.
The courses included are Introduction to UAS Flight Operations for Emergency Response and Introduction to UAS Data Analytics for Emergency Response. ASSUREd Safe is already working to expand its curriculum portfolio to include additional UAS courses relevant to the first-responder community, which includes a variety of agencies such as law enforcement, firefighters and emergency management. ASSUREd Safe also plans to add special topics related to identified aircraft use, real-world scenarios and position-specific considerations.
"As pilots, we have a shared responsibility to protect our air space system with safe flight operations," said Raspet Pilot Sean Meacham. "This training allows us to share our knowledge and experiences to support first responders in their duties as the use of small UAS increases."
MSU's Raspet Flight Research Laboratory is the nation's leading academic research center dedicated exclusively to the advancement of Uncrewed Aircraft Systems. Raspet is the only institute in the world designated both as the FAA's UAS Safety Research Facility and as official UAS Test Sites for both the FAA and the Department of Homeland Security, placing the research center at the helm of studying and developing UAS safety and certification standards. Home to a fleet of the largest and most capable unmanned aircraft in academic use, Raspet conducts UAS research on behalf of federal agencies and commercial industry partners, helping grow Mississippi's aerospace sector.
ASSUREd Safe, a division of ASSURE, provides standards-based training, testing and certification of first responders' use of uncrewed aircraft systems for public safety and disaster operations. ASSURE has supported more than 60 projects related to advanced air mobility, cybersecurity, integrating UAS in disaster response and more. For more on ASSURE, visit www.assureuas.org.
For more on the Raspet Flight Research Lab, visit www.raspet.msstate.edu.
Mississippi State University is taking care of what matters. Learn more at www.msstate.edu.