Contact: Addie Mayfield
STARKVILLE, Miss.—Mississippi State University freshman MaKenna Currie of Long Beach is the latest winner of the Mississippi State University Alumni Association's Tuition Drawing.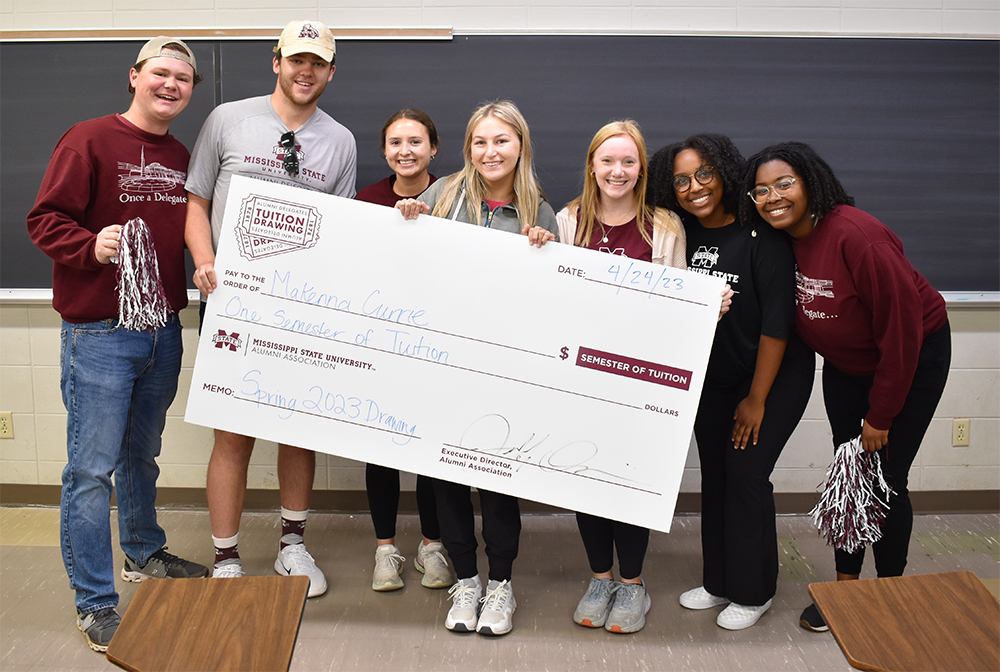 Sponsored by the association's Alumni Delegates student organization, the drawing provides the winner funding for full-time tuition (12 credit hours) at the land-grant institution. Currie, a human development and family science major, is receiving the award for the 2023 fall semester.
"This scholarship means so much to me, and it's still so surreal that this actually happened," Currie said. "It just makes me so grateful for Mississippi State and the opportunities we have here for things like this to happen."
Currie's ticket, purchased by her parents Brian and Jan Currie, was one of more than 3,000 tickets sold by the Alumni Delegates. This semester, the organization raised more than $15,000 from ticket sales.
"I am also so very grateful for my parents because without them, this wouldn't have been possible," Currie said. "I can already tell that my student experience will be a lot less stressful as I'll be able to focus more on all my schoolwork without the worry of college tuition next semester."
Begun in 2013, the Tuition Drawing program is available each fall and spring semester to a Mississippi resident. Eligible students include any undergraduate enrolled full time at the university, and tickets are made available to parents of eligible students.
Jeff Davis, the alumni association's executive director, said the program has "become a proud tradition for the Alumni Delegates because it serves as a way for them to positively influence the college experience of fellow students."
"Excess funds raised beyond the amount of each tuition award build support for scholarships and priority programs within the alumni association," he added.
Alumni Delegates serve as links between the 145-year-old land-grant institution and its more than 158,000 living graduates. Members assist with organizational programs and activities on behalf of the association such as football tailgate gatherings, class reunions and the association's annual awards banquet and leadership conference.
The MSU Alumni Association anticipates ticket sales in the upcoming fall for the drawing of a spring 2024 winner. For more information, contact Toria Carter, the association's coordinator of student engagement and Alumni Delegates advisor, at 662-325-3479 or tcarter@alumni.msstate.edu.
MSU is Mississippi's leading university, available online at www.msstate.edu.