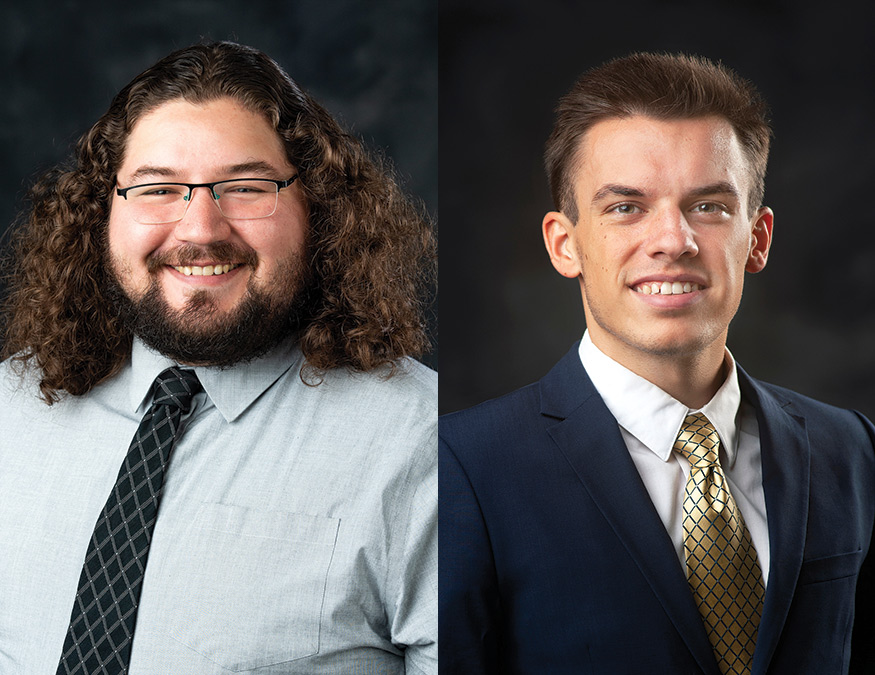 Contact: James Carskadon
STARKVILLE, Miss.—Mississippi State University alumni and current students are among this year's recipients of the National Science Foundation's prestigious Graduate Research Fellowship.
MSU graduates from the classes of 2021, 2022 and 2023, as well as a current doctoral student, are among the fellowship recipients. The fellowship recognizes outstanding graduate students who have demonstrated the potential to be high-achieving scientists and engineers and provides three years of scholarship support and an annual stipend of $37,000.
The current MSU students and alumni receiving fellowships this year include:
—Oscar Ramirez Perez, a current doctoral student in the Department of Psychology;
—Reese Dunne, a 2023 MSU mechanical engineering graduate planning to pursue a doctoral degree at Stanford University;
—Harrison Broadaway, a 2022 MSU biomedical engineering graduate and current doctoral student University of Florida; and
—Sydney Wicks, a 2021 MSU psychology graduate and current doctoral student at the University of Mississippi.
Perez's selection marks the MSU Department of Psychology's first doctoral student to be named as an NSF Graduate Research Fellow. After completing his bachelor's degree at the University of California Santa Cruz, Perez began working toward a doctorate in cognitive science at MSU in 2021. His research focuses on memory effects and online education.
"As time goes on, technology is becoming more and more integrated in our daily lives," Perez said. "I am interested in investigating how we interact with technology in learning environments. I am also interested in how technology can help us manage more traditional learning strategies to better inform how we can use it to maximize access to learning. I hope to use this fellowship to access broader resources and collaborators that otherwise would not have been possible."
Dunne, a Starkville native, graduated this month after a distinguished undergraduate academic career that included becoming MSU's 19th Goldwater Scholarship recipient, an Astronaut Scholar, and Rhodes Scholarship finalist. He is a 2023 inductee into the Bagley College of Engineering Student Hall of Fame. Dunne, also a student-athlete during his time at MSU, plans to continue his research on Alzheimer's disease at Stanford.
"The NSF GRFP will play a major role in funding the first three years of my Ph.D. at Stanford University and will provide me the freedom and flexibility to explore a variety of research topics and cultivate interdisciplinary collaboration within my area of study," Dunne said. "The financial support from NSF, along with the access to professional development opportunities and other invaluable resources, will be crucial in preparing me to utilize medical imaging to study, diagnose, treat and hopefully someday put an end to Alzheimer's disease."
For more information on the NSF Graduate Research Fellowship Program, visit www.nsfgrfp.org.
Mississippi State University is taking care of what matters. Learn more at www.msstate.edu.