Contact: Carl Smith
STARKVILLE, Miss.—Thanks to a donation from Nissan North America, clients of Mississippi State's T.K. Martin Center for Technology and Disability who receive support as they learn to drive now have access to a sport utility vehicle loaded with modern amenities and assistive technology.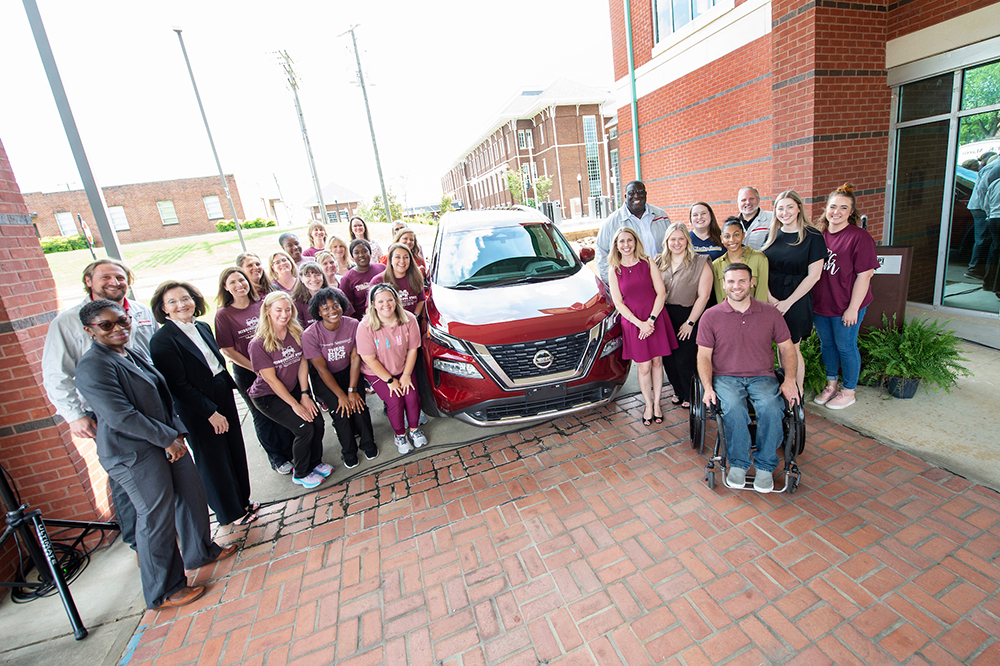 Representatives of the car manufacturer and university gathered at the center Wednesday [May 17] as Nissan formally donated a maroon 2021 Nissan Rogue SUV for use in the department's adaptive driving program. It comes with features such as lane assist, blind spot detection, external cameras and more, and will have additional supports for those with disabilities, including hand controls, added by the university.
Matthew Overbay, Nissan North America's director of manufacturing strategy and planning, said the T.K. Martin Center is a natural partner for his organization since both entities strive to empower individuals.
"It was amazing to sit back and watch," he said of his first observation of the center's adaptive driving program. "The T.K. Martin Center has the same core values we have at Nissan, which are enriching people's lives and empowering people to be independent. We have a commitment not only to build great vehicles, but also to strengthen the communities around us."
T.K. Martin Center Director Kasee Stratton-Gadke said adaptive driving services are some of the most critical supports offered by her organization. The ability to drive "means access to employment, engagement in the community and autonomy," said Stratton-Gadke, who is the executive director of the Mississippi Institute on Disabilities.
"Nissan's generous gift to the T.K. Martin Center is truly remarkable. It will have a lasting impact on our community and beyond," said Teresa Jayroe, MSU College of Education dean. "This contribution not only touches the lives of individuals in our area, but also extends our reach across the state. It will allow us to provide services and support to those in need. Nissan's act of kindness demonstrates the power of giving, and we are immensely grateful to their commitment to making a difference."
For more information about the T.K. Martin Center for Technology and Disability, visit www.tkmartin.msstate.edu.
Mississippi State University is taking care of what matters. Learn more at www.msstate.edu.