Contact: Sarah Nicholas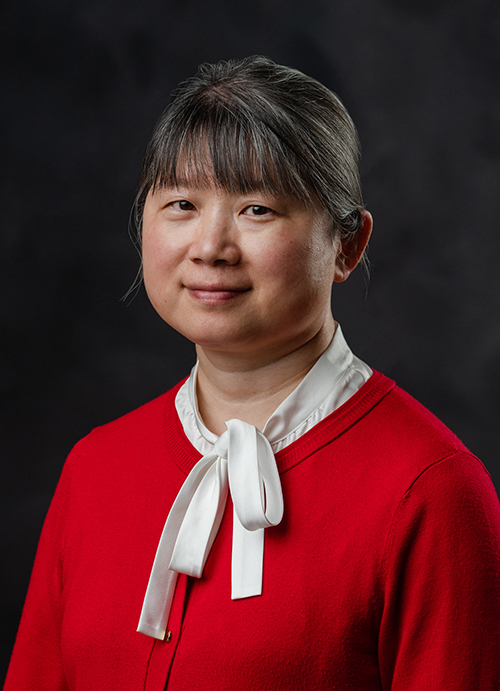 STARKVILLE, Miss.—Assistant Professor Ling Li is the latest faculty member in the Mississippi State University Department of Biological Sciences to receive the prestigious National Science Foundation Faculty Early Career Development award.
Li is using a five-year, approximately $800,000 grant to advance her research on increasing protein in key crops such as soybeans, corn and rice. The grant marks the department's fourth CAREER award in the past two years, with researchers receiving a total of $2 million from the competitive funding program since 2021.
The CAREER program supports faculty who have potential to serve as academic role models in research and education, and lead advances in the mission of their department.
Li's project, "'De novo' emergence of novel regulatory mechanisms that determine carbon and nitrogen resource allocations in plants," hopes to build a bridge between basic and applied research with goals to increase protein in soybean, corn and rice for the benefit of human consumption.
"Dr. Li's work explores the ways in which plants internally allocate nutrients and resources. Understanding the molecular control of this process can help with developing ways to direct metabolic activity in the plant to more desired traits, such as nutrient composition within a seed, an incredibly important characteristic with significant agricultural implications," said Angus Dawe, professor and head of the Department of Biological Sciences. "Dr. Li's lab continues to provide fantastic training opportunities for undergraduate and graduate students. Together with our other CAREER-awarded faculty and faculty with other grant sources, this continues to improve upon groundbreaking research directions for the department, recognizing our role as the premier location in the state for studying biological sciences."
Li said the "Arabidopsis-specific QQS (Qua Quine Starch) orphan gene" provides a prototype of how to improve biological traits to develop a molecular tool to increase protein content.
"On the evolutionary scale, protein-coding orphan genes have only recently emerged," Li said. "This research will help us understand how an orphan gene can be integrated into established genetic networks and spur the acquisition of novel traits. This has the potential to regulate plant reserves to the benefit of human consumption and could provide a major breakthrough in our ability to systematically direct metabolism towards the production of food and biorenewable resources."
Li joins Matt Ballinger, Amy Dapper and Andrew Lawton as biological sciences faculty to receive CAREER funding.
Li's research at MSU involves developing an integrated experimental/biocomputational approach to identify the factors that regulate plant metabolism and adaptation to environmental changes. She is focused on expanding the fundamental understanding of biological networks that shift metabolism and alter composition. 
A native of Chongqing, China, Li earned her Ph.D. from Iowa State University in 2006. Li received her bachelor's degree in 1997 and her master's degree in 2000, both from Peking University in Beijing. She joined the MSU faculty in 2017.
For more details about the College of Arts and Sciences or Department of Biological Sciences, visit www.cas.msstate.edu and www.biology.msstate.edu.
Mississippi State University is taking care of what matters. Learn more at www.msstate.edu.