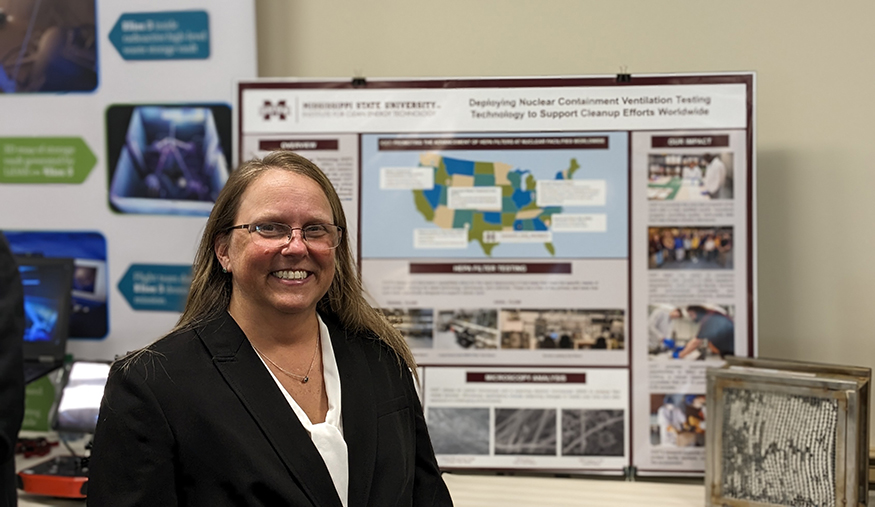 Contact: James Carskadon
WASHINGTON—A Mississippi State University research center is showcasing its nuclear filtration technology with leaders from the U.S. House of Representatives.
MSU's Institute for Clean Energy Technology recently participated in a technology showcase hosted by the U.S. House Nuclear Cleanup Caucus in conjunction with the Department of Energy's Office of Environmental Management. ICET manages a nuclear containment ventilation testing program that leads the nation in research to ensure that filter and confinement systems at facilities with radioactive materials are effective and pose minimum risk of accidental exposure to workers, the public and the environment.
ICET specializes in the testing and advancement of High Efficiency Particulate Air filters, which are used to remove hazardous, radioactive particulate matters from the air at nuclear facilities across the country.
"HEPA filters are the last line of defense against harmful radiation, which makes their reliability a key component of any nuclear cleanup effort," said ICET Director Jaime Rickert. "ICET's work has supported cleanup efforts across the country during our decades-long partnership with the Department of Energy. It was great to highlight our capabilities with government leaders in Washington and see some of the other innovations being put to use in nuclear cleanup efforts."
The Nuclear Cleanup Caucus event included remarks from a bipartisan group of legislators, as well as a panel discussion and demonstrations highlighting technologies that Department of Energy contractors have developed in support of nuclear cleanup efforts.
ICET's test beds allow researchers to safely replicate accident conditions at nuclear facilities and evaluate how filters perform in those settings. Working with the Department of Energy and filter manufacturers, ICET is currently the only test program of its kind with a fully certified nuclear quality assurance program, providing data that shapes industry standards. ICET's filter testing has resulted in improved designs that have been used in numerous facilities containing radioactive materials.
For more on the Institute for Clean Energy Technology, visit www.icet.msstate.edu.
Mississippi State University is taking care of what matters. Learn more at www.msstate.edu.