Contact: Harriet Laird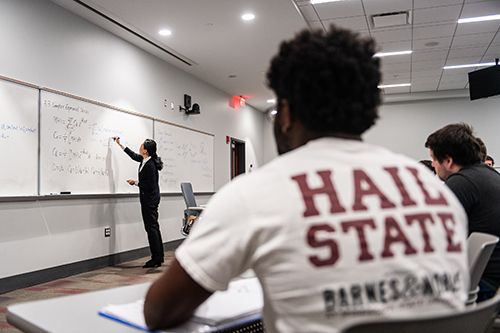 STARKVILLE, Miss.—Thirty faculty members are participants in Mississippi State's new Maroon Academy for Teaching Excellence, a university certificate program for both early career and established teachers.
The four-course summer program is being introduced as a result of the MSU Faculty Development Task Force, one of 17 such committees charged with exploring best practices and recommending advancements across the university.
"We're embarking on our most ambitious instructional professional development program in my 25-year career at MSU. This first cohort is committed to completing and adopting strategies learned in the academy, and ultimately, we will train 90 faculty members over three years, with the potential for training hundreds more beyond the pilot period," said Jim Dunne, associate vice president for academic affairs and task force committee member.
The five-week, asynchronous online courses include evidence-based teaching practices, aiding faculty in improving class outcomes and supporting student learning, promoting student engagement, and fostering an inclusive class environment. The initiative was designed and implemented by MSU's Center for Teaching and Learning, with assistance and support from faculty from across campus.
Instructor Abigail Good, in the Department of Mathematics and Statistics, said of her selection to the program, "I've been looking for tools to redesign some courses to better engage the students and increase active learning. After hearing of this program and its design, I've looked forward to working together with a cohort of other faculty to discuss and learn from Maroon Academy."
Instructors and assistant, associate and full professors were eligible to apply this spring. The application review committee—to maximize program impact—gave significant consideration to:
—teaching loads and class sizes
—class levels and course requisite standings
—course loads including classes with a historically high percentage of students receiving a D or F grade or who withdraw
Two classes are currently being offered, Intentional Course Design and Assessment taught by Educational Leadership Professor Stephanie King, and Active Learning for Student Engagement with Associate Professor Nicole Miller, in Curriculum, Instruction and Special Education. Upon completion of the summer courses and implementation in their fall classes, participants will receive a $250 stipend for the first course and $500 for the second. A completion certificate, recognition at the annual Teacher Appreciation Luncheon and within the participant's department, and presence on the CTL website also distinguish program completion. The selection of the second cohort will occur in spring 2024.
First cohort participants, their colleges and departments are:
College of Agriculture and Life Sciences
—SaMin Han, assistant professor, Landscape Architecture
—Aswathy Rai, assistant clinical professor, Biochemistry, Molecular Biology, Entomology and Plant Pathology
—Bryan Whittenton, instructor, Plant and Soil Sciences
College of Architecture, Art and Design
—Afshin Hatami, assistant professor, Building Construction Science
—Caroline Hatfield, assistant professor, Art
—Aaron White, assistant professor, Architecture
College of Arts and Sciences
—Katie Doughty, instructor, English
—Cody Fondren, instructor, Classical and Modern Languages and Literatures
—Amy Fountain, instructor, Communication
—Abigail Good, instructor, Mathematics and Statistics
—Evan Kaplan, instructor, Biological Sciences
—Matthew Kilpatrick, instructor, Mathematics and Statistics
—Whitnee, Nettles, assistant clinical professor, Chemistry
—Emily Stinson, instructor, English
—Sean Stokes, assistant clinical professor, Chemistry
—Bob Swanson, instructor, Physics and Astronomy
—Angelle Tanner, associate professor, Physics and Astronomy
—Benjamin Tkach, assistant professor, Political Science and Public Administration
—Ashley Vancil-Leap, assistant teaching professor, Sociology
College of Business
—Patty Bogue, instructor, Management and Information Systems
—Sheida Riahi, instructor, Marketing, Qualitative Analysis and Business Law
College of Education
—Jeanette Fontaine, associate professor, Music
—Angela Mulkana, assistant clinical professor, Curriculum, Instruction and Special Education
—Brecken Rush, Curriculum, Instruction and Special Education
—Kimberly Smith, instructor, Curriculum, Instruction and Special Education
—Brandi Sumrall, instructor, Education
College of Engineering
—Morgan Green, instructor, Mechanical Engineering
—Ali Gurbuz, assistant professor, Electrical and Computer Engineering
—Aaron Smith, associate clinical professor, Mechanical Engineering
College of Forest Resources
—Ashley Schulz, assistant professor, Forestry
For more information on the Maroon Academy for Teaching Excellence, contact the Center for Teaching and Learning at 662-325-2083 or email help@ctl.msstate.edu.
MSU is taking care of what matters. Learn more at www.msstate.edu.