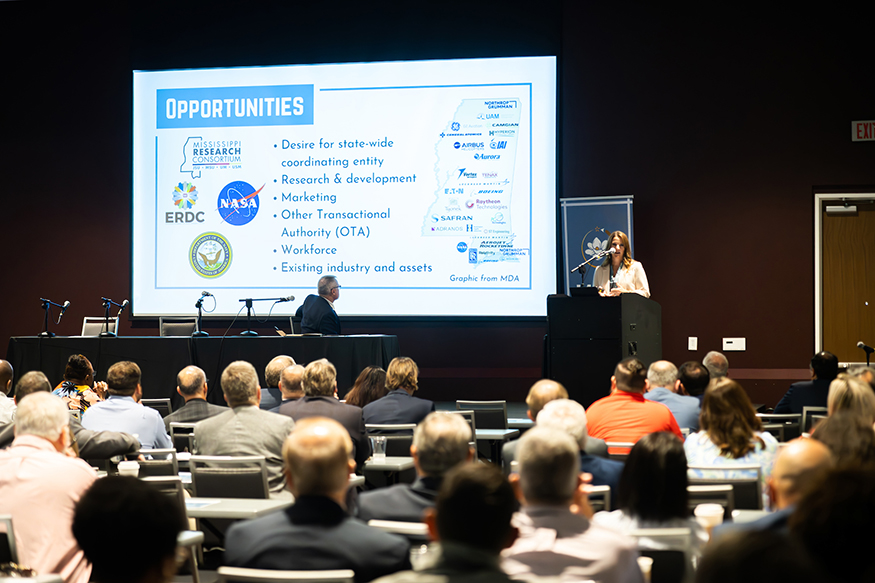 Contact: James Carskadon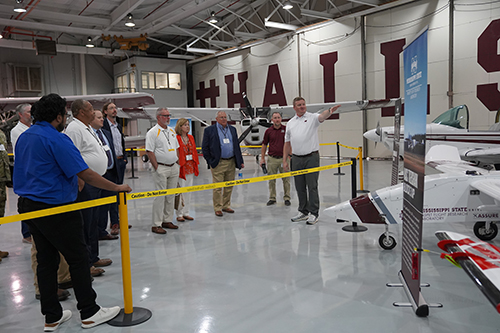 STARKVILLE, Miss.—Aerospace and defense industry leaders and experts explored opportunities and challenges facing the sector in Mississippi during a productive two days of discussions and networking.
Hosted by Mississippi Enterprise for Technology (MSET) and Mississippi State University, the Mississippi Aerospace and Defense Symposium brought together leaders in industry, academia and the public sector to discuss Mississippi's growing aerospace and defense industries. It kicked off the MSET-led effort to formally establish a statewide aerospace and defense cluster intended to support industry-wide needs, promote economic development, and foster information sharing and strategies for growth among industry partners.
MSET President and CEO Davis Pace stressed the importance of the aerospace and defense sector in the state.
"Through nurturing talent, promoting research and development, and embracing emerging technologies, Mississippi will continue to make significant contributions, paving the way for a brighter and more secure future," Pace said.
The symposium included a briefing from MSET's Sara Doss and Mississippi Defense Initiative Director Andy Kilgore on the opportunities and threats the aerospace and defense sector currently faces within the state. Other discussions explored the various ways in which state and non-profit organizations are leveraging Mississippi's resources to grow the industry, as well as how leaders themselves can effectively work with state resources to grow their supply networks and improve recruitment.
MSET's Laurie Jugan moderated a symposium panel of key partners, including representatives from NASA, the Navy, and the Air Force, that focused on ways in which small businesses statewide can use larger government agencies' assets to their advantage. State Auditor Shad White led a panel of "Mississippi Miracles," discussing opportunities with leaders of innovative companies based in the state.
Symposium participants toured MSU's Center for Advanced Vehicular Systems, High Performance Computing Collaboatory, Raspet Flight Research Laboratory and Advanced Composites Institute. Those facilities and other MSU research efforts support public and private partners in the state's defense and aerospace industries.
"Our researchers are working every day to deliver solutions and help meet the needs of our partners," said MSU Associate Vice President for Corporate Engagement and Economic Development Jim Martin. "Mississippi is well-positioned to grow its aerospace and defense sector, and MSU is supporting those efforts through growing research capabilities and developing the next generation of industry workforce and leaders."
Located at the John C. Stennis Space Center, MSET is a private, non-profit 501(c)(3) organization that facilitates regional economic development by leveraging the resources of Stennis Space Center, the state and region to foster business opportunities among public and private entities. For more, visit www.mset.org.
MSU's diverse research portfolio addresses several national security needs. Interdisciplinary teams of MSU researchers utilize advanced technology and a wide-ranging network to develop fully integrated solutions for public and private sector partners in aerospace and defense. For more, see www.research.msstate.edu.
Mississippi State University is taking care of what matters. Learn more at www.msstate.edu.