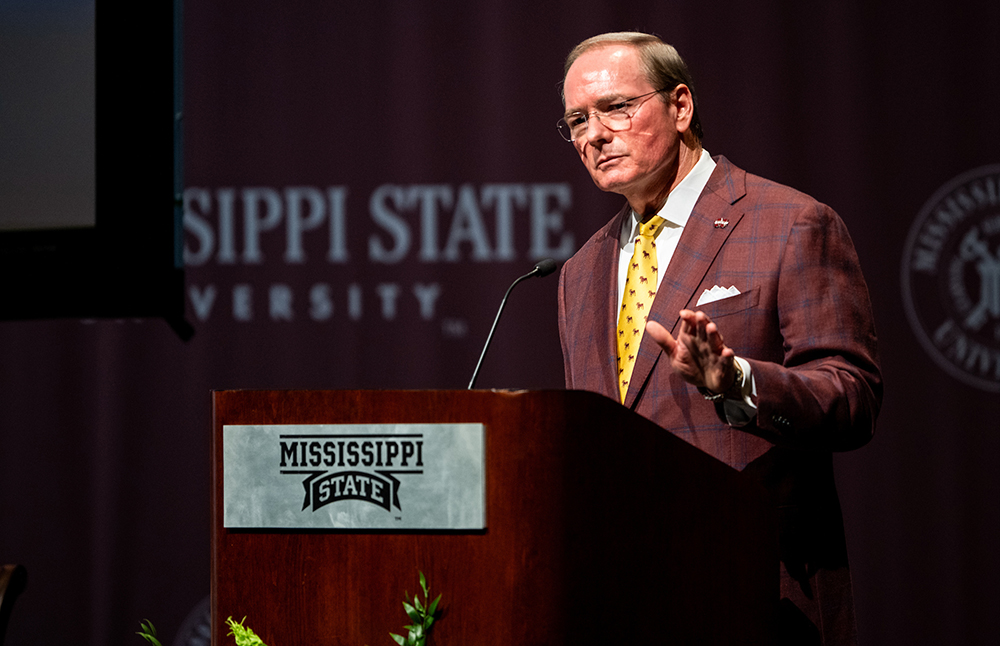 Contact: Carl Smith
STARKVILLE, Miss.—As record-breaking freshman enrollment, fundraising and research propel Mississippi State into the new academic year, President Mark E. Keenum on Wednesday [Aug. 30] committed to his top annual legislative priority: seeking additional funding to support faculty wages.
Keenum outlined many recent university successes and his vision for the 2023-2024 academic year during the Fall General Faculty Meeting, noting the university's momentum in the three key areas and the state's continued streak of strong revenue collections.
For the 2024 legislative session, which begins in January, Keenum said, "My number one priority will continue to be funding for our people. A university is only as good as its people, and we must invest in the best for our people. We'll continue to make that strong appeal as we go into that session."
This year, Keenum said he has a new perspective on university life, as three of his and MSU First Lady Rhonda Keenum's children are part of the record-setting freshman class.
"They're now settled into their residence hall rooms, busy with campus activities and getting to know their fellow classmates," Keenum said of his children. "You can certainly feel the energy and excitement [the freshman class brings] to our campus community."
That energy was felt during Aug. 22's Fall Convocation, featuring MSU alumnus and Bradley Law Firm partner Stanley Blackmon, who encouraged students to take advantage of all the opportunities that come with being a Bulldog.
Keenum applauded the MSU Foundation's Fiscal Year 2023 efforts, which yielded $259.9 million in donations—the largest annual amount ever raised by any Magnolia State university. The total includes a $100 million gift from George and Kathy Bishop, which significantly increases scholarships available to students.
"All of this fundraising is so important to faculty, as well," Keenum said. "They enhance our endowed faculty positions; they are supporting faculty development, as well as professorships and chair positions in the Adkerson School of Accountancy; Bagley College of Engineering; College of Architecture, Art and Design; and College of Veterinary Medicine.
"Our graduates are giving back to this university at record levels. They are appreciative of what this university did for them," he continued. "They also appreciate what faculty are doing—the quality education you give students and how you're creating the leaders of tomorrow."
MSU's research portfolio is "strong and growing," Keenum said, referring to the approximately $300 million in FY 2022 research and development expenditures. That total includes a record $123 million spent specifically on agriculture and natural resources research and development.
"Fifty-five percent of all research generated in this state is done right here by you, our faculty, scientists and researchers at MSU," he said. "We are a powerhouse when it comes to research."
Keenum also asked campus visitors to "pardon our progress" as numerous improvement projects occur through the year, including the construction of the $65 million Jim and Thomas Duff Center following the demolition of McCarthy Gymnasium, the $45 million High Performance Computing Data Center in the Thad Cochran Research, Technology and Economic Development Park, and a $96 million residence hall at the site of the former Suttle Hall. Additionally, a $52 million renovation and expansion of Humphrey Coliseum and a $13 million Ballew Hall upgrade are underway, among other projects.
"I have a greater appreciation for how well our faculty cares for our students. I knew you were doing it, but I'm now on the receiving end of this. The culture and caring nature of this university is very special," Keenum said. "We're blessed to be part of a wonderful campus environment, and I'm thankful to have you as my colleagues as we serve this great institution. Thank you for what you do to make this university great."
Mississippi State University is taking care of what matters. Learn more at www.msstate.edu.