Contact: Carl Smith
STARKVILLE, Miss.—The Mississippi Society of CPAs recently celebrated two Bulldog graduates for scoring the highest in the Magnolia State on the 2022 state-certified professional accountancy exam.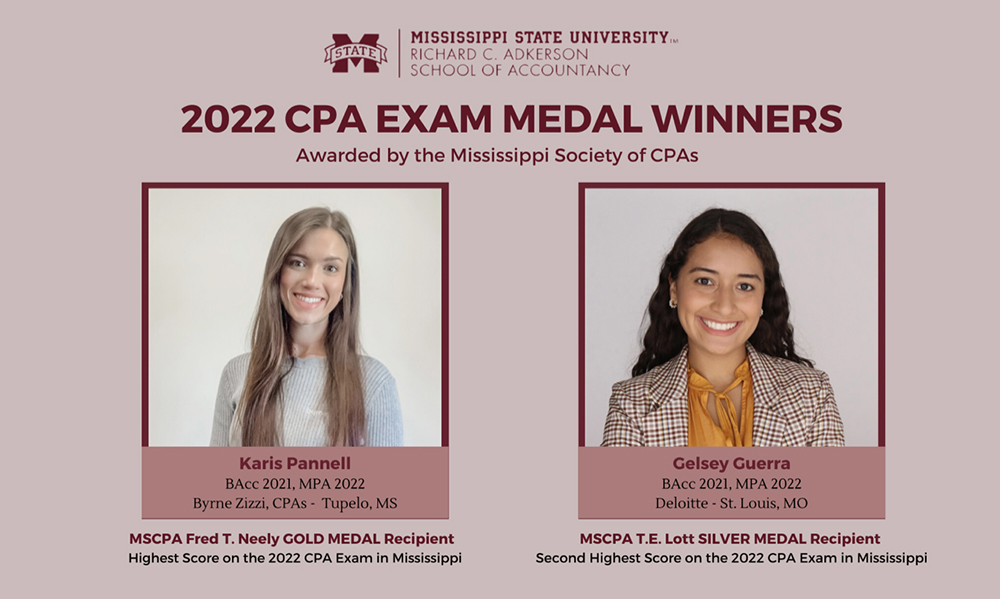 Karis Pannel, of Tupleo's Byrne Zizzi CPAs, received the MSCPA's Fred T. Neely Gold Medal at the organization's annual summer conference for the year's highest score, while Gelsey Guerra, who works for a St. Louis, Missouri-based branch of Deloitte, was awarded the T.E. Lott Silver Medal for the second-highest exam score.
"We are very proud of Karis and Gelsey and their performance on the CPA exam," said MSU College of Business Dean Scott Grawe. "The College of Business is committed to preparing students to be the very best in their chosen fields, and these graduates are off to a great start."
Shawn Mauldin, Richard C. Adkerson School of Accountancy director and professor, said the duo's scores are a clear indication of the quality of MSU's accounting programs.
"Karis and Gelsey are great ambassadors for what an accounting degree from Mississippi State University can do for your career," he said.
Pannell, of Pontotoc, graduated from MSU with a Bachelor of Accountancy in 2021 and a Master of Accountancy with a minor in data analytics in 2022. She was a member of Delta Gamma sorority and a Stephen D. Lee Scholar, an honor given for maintaining a 4.0 grade-point average throughout her time at MSU. Pannell first joined Byrne Zizzi as an administrative worker during her senior year of high school and continued as a part-time worker there throughout college. Now, she serves as a tax associate with the firm.
Guerra, of Picayune, graduated with a bachelor's and master's degree in accountancy from MSU in 2021 and 2022, respectively. She, too, was a Stephen D. Lee Scholar who maintained a 4.0 GPA while at the university. As a Bulldog, Guerra participated in a variety of student-serving initiatives and programs, including the MSU Road Runners and New Maroon Camp. Following graduation, she joined Deloitte as an audit assistant.
MSU's College of Business, organized in 1915, is one of the oldest in the South. Both the college and its Richard C. Adkerson School of Accountancy are accredited by the Association to Advance Collegiate Schools of Business, one of the most prestigious business education groups in the world. For more, visit www.business.msstate.edu.
Mississippi State University is taking care of what matters. Learn more at www.msstate.edu.