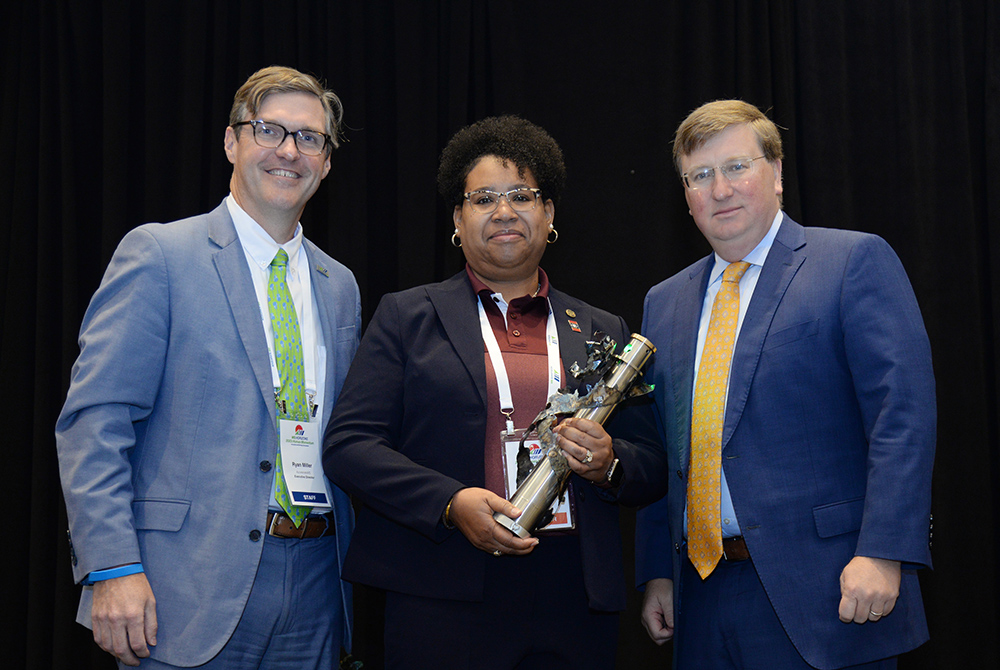 Contact: James Carskadon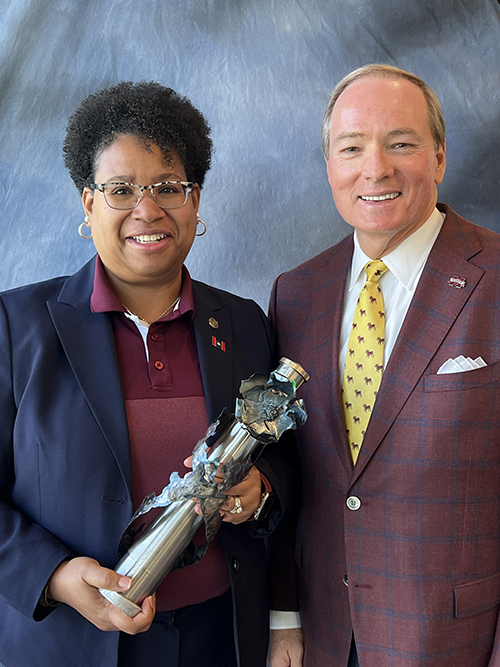 STARKVILLE, Miss.—Mississippi State University is in the spotlight for its quick action to address Mississippi workforce needs.
MSU's Center for Advanced Vehicular Systems-Extension received the Instant Impact Award from AccelerateMS at the organization's 2023 Mississippi Horizons and Innovation Strategy Symposium this past week. The award was based on CAVS-E's creation of the Industry 4.0 Skills Accelerator Program, which helps train industry personnel for working in high-tech environments and raises the visibility of advanced manufacturing career opportunities in the state.
"This year's theme for the Mississippi Horizons event is Human Momentum, and we as a state should continually identify shining examples of people and initiatives that are giving our people occupational and personal momentum," said Ryan Miller, AccelerateMS executive director, in announcing the top workforce awards from the conference. "It is my hope that the recognition given today in these three awards will inspire others to follow in their lead to make a larger impact in Mississippi communities."
CAVS-E's Industry 4.0 Skills Accelerator Program was established with American Rescue Plan Act funding in response to growing industry needs for workforce training focused on advanced manufacturing environments. With the funding, MSU personnel established the CAVS-E Experiential Learning Lab at the CAVS-E office in Canton. The lab contains a scaled down production line, collaborative robots, sensor equipment, data visualization systems and other technology seen in Industry 4.0 settings. In addition to the tools housed at the CAVS-E office, the project includes virtual reality headsets and other mobile equipment that is being used to provide Industry 4.0 demonstrations to manufacturing companies. The team established a training and coaching program aligned with current industry trends and is conducting K-12 outreach focused on training and exposure for both the student and educator community.
"I am extremely proud of our team and the work we do in providing engineering training and technical assistance across the state," said CAVS-E Director Tonya McCall. "This project is a great representation of our ability to rapidly respond to industry needs with solutions which position our state's manufacturers and workforce for success in an ever-changing environment."
Based in Canton, MSU CAVS-Extension has generated more than $7 billion in economic impact since 2006 through its extensive support of small, mid-size and large Mississippi manufacturers. For more, see www.cavse.msstate.edu.
AccelerateMS, a state agency, serves the people and businesses of Mississippi by developing and deploying workforce strategies to connect individuals with transformative, high-paying careers. By leveraging resources and partnering with organizations that hold complementary missions, AccelerateMS effectuates positive change, creating sustained individual, community and, statewide economic prosperity. For more, see www.acceleratems.org.
Mississippi State University is taking care of what matters. Learn more at www.msstate.edu.