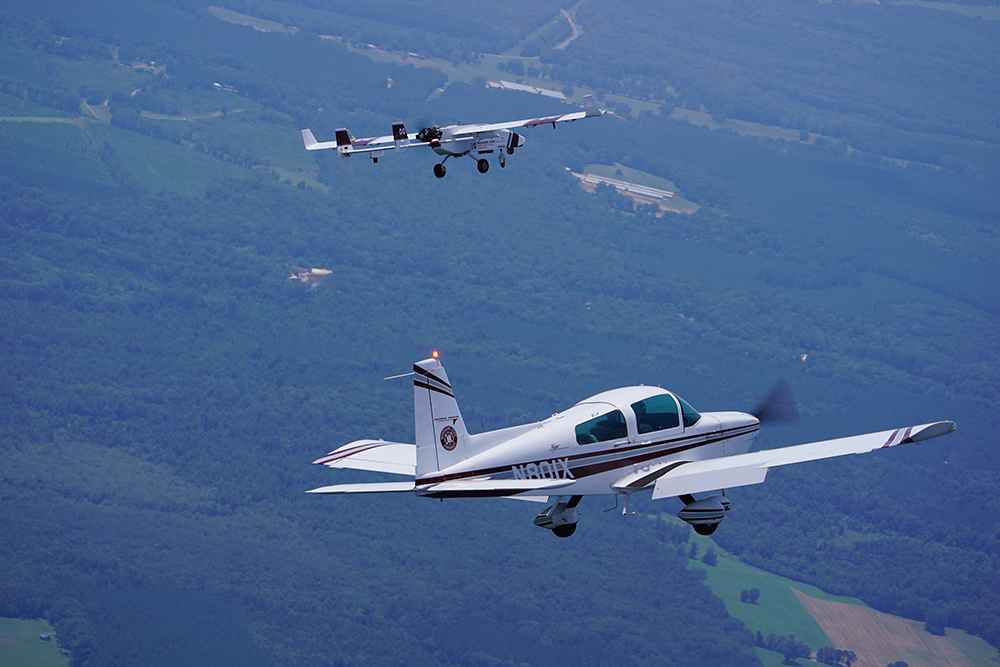 Contact: Nicole Thomas
JACKSON, Miss.—Almost a year ago, residents of Jackson began voluntary evacuations as the National Weather Service issued a flood warning for the Pearl River. Two years before, in 2020, the Pearl River reached its third highest crest in history, flooding hundreds of homes and businesses in Hinds and Rankin counties. The next time it happens, an advanced river mapping system created using drone technology at Mississippi State University could improve flood warnings and enhance mitigation efforts.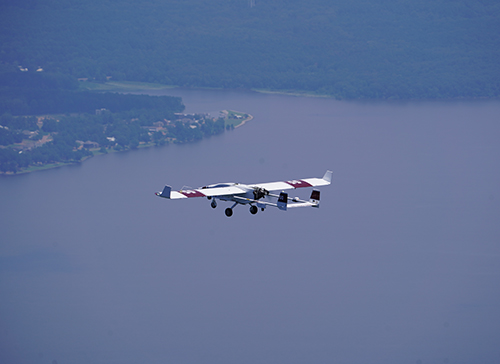 MSU's Raspet Flight Research Laboratory flew its TigerShark, a large Group 3 uncrewed aircraft equipped with a complex camera payload, along the banks of the Pearl River from Carthage to Jackson over two days in late July and early August to capture detailed imagery of where the water is and where it can go. The drone flights are the sixth in a series that began in 2018 as part of an ongoing research project led by MSU's Northern Gulf Institute, a NOAA Cooperative Institute, to develop concepts of operation to exploit uncrewed aerial systems for flood prediction and model improvement. 
"Advanced modeling for river forecasting and flood mapping is critical to saving lives and protecting property," said NGI Director Robert Moorhead.
Mississippi's Pearl River, the second longest river in the state, stretches more than 450 miles and covers almost two thirds of the state.  Home to one million people who live in neighborhoods and communities that border its banks, the Pearl River rises in Edinburg in rural Neshoba County and runs south, winding its way through some of Mississippi's most populated cities, including the capital city of Jackson, before emptying into the Mississippi Sound.   
As the TigerShark scanned 454 nautical miles of the Pearl River, Moorhead and Lee Hathcock, a data acquisitions coordinator for NGI, observed the UAS operation on display screens from inside Raspet's Ground Control Station, where images were delivered in real time.  
"The better your models are, the better you can predict future floods," said Hathcock, who processes the images collected to generate updated maps for river forecasting.
"It is a pretty straightforward approach," said Jamie Dyer, a professor of meteorology and climatology at MSU.  "The high-resolution images provide us a baseline that allows us to see where water exists, which can then be used to define areas at risk of becoming inundated during a flood event. Also, with that data we can build and verify models to better predict the extent of flooding before it actually occurs."
While it can be difficult, even dangerous, for researchers to access hard-to-reach areas of Mississippi's river systems, Raspet's experienced flight team combined with the largest, most capable UAS fleet in academic use, offers a safe, reliable alternative for data collection.
"These flights further expand use of UAS and UAS technology as an important research tool while advancing UAS integration into the National Airspace System," said Raspet Director Rob Premo.  "The project also demonstrates how MSU's research centers work together to leverage resources and create solutions to real-world challenges."
The first flight of the two-day exercise marked the second time for Raspet's TigerShark to fly at Mississippi's busiest airport–Jackson-Medgar Wiley Evers International Airport (JAN), taking off on the runway and sharing civilian airspace with traditional aircraft. For the second flight, the TigerShark flew out of Carthage-Leake County Airport, one of more than 40 cooperative airports across seven states that support Raspet's UAS operations.
MSU's Raspet Flight Research Laboratory is the nation's leading academic research center dedicated exclusively to the advancement of Uncrewed Aircraft Systems. Raspet is the only institute in the world designated both as the FAA's UAS Safety Research Facility and as official UAS Test Sites for both the FAA and the Department of Homeland Security, placing the research center at the helm of studying and developing UAS safety and certification standards. Home to a fleet of the largest and most capable unmanned aircraft in academic use, Raspet conducts UAS research on behalf of federal agencies and commercial industry partners, helping grow Mississippi's aerospace sector. For more on the Raspet Flight Research Lab, visit www.raspet.msstate.edu.
The Northern Gulf Institute is a National Oceanic and Atmospheric Administration Cooperative Institute at Mississippi State University. NGI conducts research on interconnections among Gulf of Mexico environments, habitats, resources, and people and engages in outreach to help others learn about and make decisions based on these interconnections. For more on the Northern Gulf Institute, visit www.northerngulfinstitute.org.
Mississippi State University is taking care of what matters. Learn more at www.msstate.edu.