Contact: James Carskadon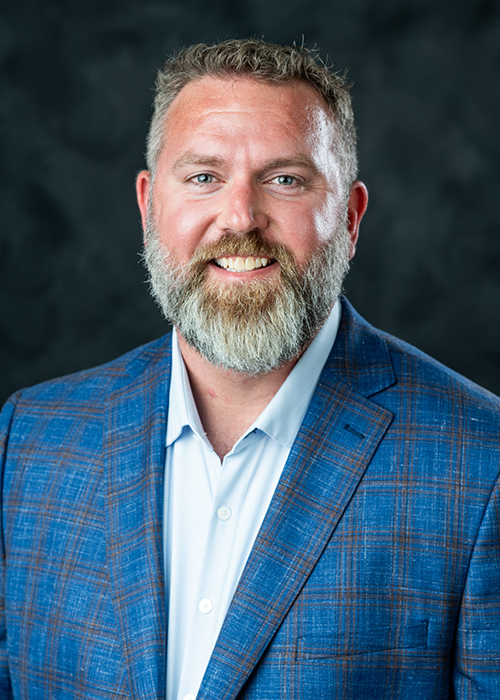 STARKVILLE, Miss.—Mississippi State University's Reuben Burch, a distinguished faculty member in the Bagley College of Engineering, is taking on a new role as associate vice president for research.
The promotion moves Burch into a leadership position within MSU's Office of Research and Economic Development. A two-time MSU alumnus, Burch has been an MSU faculty member since 2016 and led interdisciplinary research teams focused on human performance.
"Dr. Burch brings a unique blend of academic, government and industry experience that will help us continue to grow our research programs and amplify their impact," said MSU Vice President for Research and Economic Development Julie Jordan. "As a faculty member, he has a history of building relationships to maximize the potential of research teams through interdisciplinary collaboration and external partnerships. I am excited to have Reuben in this role and supporting researchers across campus."
Burch will assist with developing and implementing strategic direction for MSU's research mission, as well as day-to-day oversight of administrative units and research centers reporting to ORED. He will also engage with current and potential university federal, state and local partners, and work to facilitate cross-discipline research teams to compete for funding opportunities.
Burch holds the Jack Hatcher Endowed Chair in Engineering Entrepreneurship in MSU's Department of Industrial and Systems Engineering. He has worked to grow the university's Athlete Engineering research group to a team of more than 50 continuous personnel and partners exploring wearable technologies and human performance. During his time as an assistant and associate professor, he has developed affiliations with Columbus Air Force Base and the East Mississippi Community College Communiversity, as well as MSU's Center for Advanced Vehicular Systems and National Strategic Planning and Analysis Research Center, in addition to developing partnerships with several private companies and government agencies.
"Becoming part of the MSU experience is often described as the feeling of having found a family, a family full of people who care for others with the willingness to work hard to get the job done for the state of Mississippi," Burch said. "I'm grateful for the prospect of this new role because it's another opportunity to help serve my entire MSU family, to give back to the administrators and researchers who helped make Athlete Engineering successful, and to transition to a mentorship role for others as they build their own competitive interdisciplinary research. Taking care of what matters for Mississippi doesn't have to be complicated, but it will be hard, as doing the things that matter often are. In this position, I'm going to put my grit to good use while bringing as much research opportunity to the state as possible."
Burch has received numerous honors for his teaching and research while at MSU, including the 2023 Bagley College of Engineering Faculty Research Award and the 2022 MSU Innovation and Entrepreneurship Award. In 2021, he was named to the Bagley College of Engineering's Academy of Distinguished Teachers.
Prior to joining MSU, Burch spent five years at FedEx Express in Memphis, Tennessee, working as a senior engineer, project engineer and engineering principal. He earned a Ph.D. in industrial and systems engineering from MSU, as well as a master's degree in the field from Kansas State University. He earned his MSU bachelor's degree in computer engineering while playing for the Bulldog football team.
MSU is among the top 100 research universities nationally, with a collaborative, interdisciplinary culture where researchers are addressing some of society's most pressing challenges. For more, visit www.research.msstate.edu.  
Mississippi State University is taking care of what matters. Learn more at www.msstate.edu.