Contact: Aspen Harris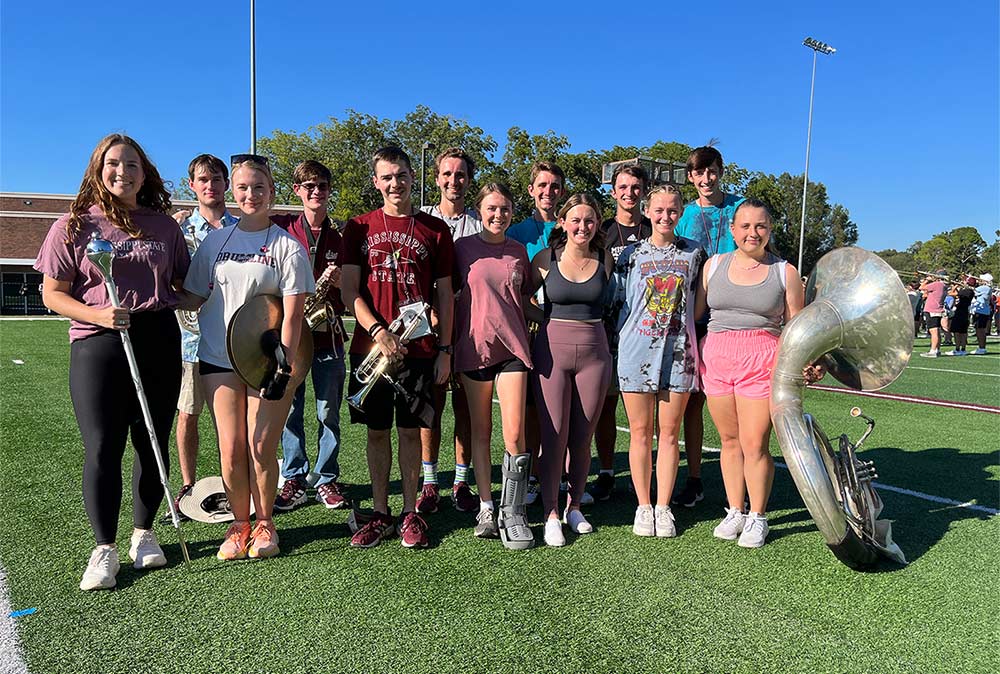 STARKVILLE, Miss.—With the beginning of a new Mississippi State football season approaching this weekend, the state's largest college band is more than prepared to bring its booming sound into Davis Wade Stadium, along with the chorus of cowbells and cheers.
Consisting of more than 400 members trained in marching and playing a wide range of instruments, the university's Famous Maroon Band includes student representation from over 150 high schools in 15 states.
"We have a great group of students this year representing nearly every college and school across our campus. They are bright, enthusiastic and good musicians," said Director of Bands Elva Kaye Lance. "We have very capable returning members who provide excellent leadership for our program, as well as a talented group of new student members. We are off to a good start and anticipate a great year of performances and activities."
The first halftime show "They Rocked the Hump!" this Saturday [Sept. 2] will feature classic rock artists such as Billy Joel, Tina Turner and Lynyrd Skynyrd, who all performed at Humphrey Coliseum in the 1970s and '80s. The show also will be featured at the Sept. 9 and 16 games.
In addition to Lance, the band is led by Associate Directors Craig Aarhus and Clifton Taylor.
Another new halftime show debuts during the Sept. 30 game and includes many singalong favorites including the Village People's "YMCA," Garth Brooks' "Friends in Low Places," Backstreet Boys' "I Want It That Way" and The Killers' "Mr. Brightside." Later performances will be the band's annual fan-favorite patriotic show and "Wide Open" show featuring "Free" by Chicago and Latin favorite "Malaga."
For over 117 years, the band has been an integral tradition at MSU, and not only a team effort, but a family affair.
This year, the band has seven sets of siblings.
When asked about being in the band with his baritone-playing brother Wynn, senior trumpet player Sanders Oakley said, "It's great to have someone I can share jokes and stories with from the past 18 years and make memories we will share for the next 60 years." The Pelahatchie natives' parents also were band members.  
Though they may have actual family on the field, many of the siblings said they have found family in their fellow members and band faculty and staff.
Blake Smith, a junior alto saxophone player from Starkville and brother to baritone-player Dawson Smith, said, "The band is definitely more than just 400-something people on the same field for an hour. It is commonly described as being in a band with 400 of your best friends, and that is fact. Everyone is here for each other, including the directors."
The Famous Maroon Band is part of the MSU College of Education's nationally accredited Department of Music. For more, visit www.msuband.msstate.edu/ or www.music.msstate.edu/.
Mississippi State University is taking care of what matters. Learn more at www.msstate.edu.