Contact: Aspen Harris
STARKVILLE, Miss.—Mississippi State is observing Latinx Heritage Month Sept. 15-Oct. 15 with a variety of events hosted by university groups.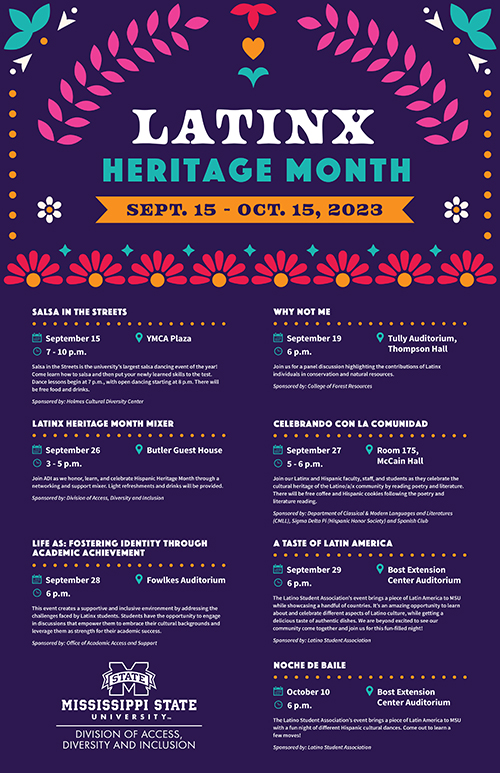 MSU and the Holmes Cultural Diversity Center kick the month off with "Salsa in the Streets," including food and dancing, Sept. 15, 7-10 p.m., at the YMCA Plaza.
The Division of Access, Diversity and Inclusion will celebrate the month with faculty, staff and students at the Latinx Heritage Month Mixer, Sept. 26, 3-5 p.m., at the Butler Guest House. Refreshments will be provided.
Throughout the month, university groups including the Office of Academic Success and Support, Latino Student Association, Department of Classical and Modern Languages and Literatures, and more will sponsor events celebrating the month, including:
—Sept. 19, 6 p.m., "Why Not Me," Tully Auditorium, Thompson Hall. A panel discussion highlighting the contributions of Latinx individuals in conservation and natural resources.
—Sept. 27, 5-6 p.m., "Celebrando Con La Comunidad," McCain Hall, Room 175. A celebration of the cultural heritage of the Latinx community by reading poetry and literature with refreshments.
—Sept. 28, 6 p.m., "Life As: Fostering Identity Through Academic Achievement," Fowlkes Auditorium. A discussion addressing the challenges faced by Latinx students.
—Sept. 29, 6 p.m., "A Taste of Latin America," Bost Extension Center Auditorium. A night to celebrate and learn about different aspects of Latinx culture while enjoying a variety of authentic dishes.
—Oct. 10, 6 p.m., "Noche De Baile," Bost Extension Center Auditorium. A night to learn different Hispanic cultural dances.
For more information, contact the Division of Access, Diversity and Inclusion at 662-325-2859 or adi@msstate.edu.  
Mississippi State University is taking care of what matters. Learn more at www.msstate.edu.