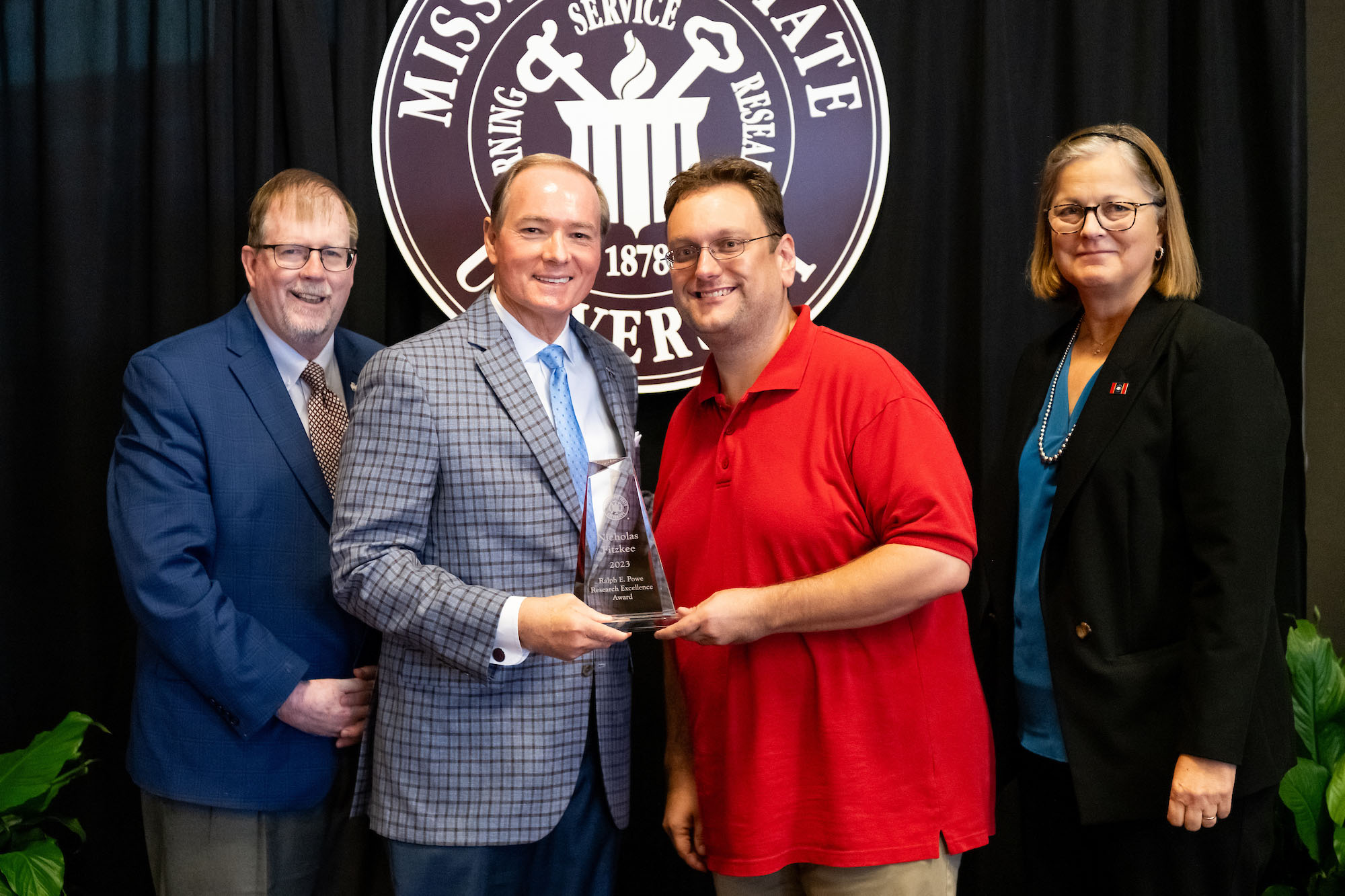 Contact: James Carskadon
STARKVILLE, Miss.—Mississippi State University is celebrating excellence in research and innovation with its annual research awards celebration on Tuesday [Sept. 26].
Among the top 100 research universities nationally, MSU's robust research and development programs are known for advancing scientific fields, impacting lives and providing world-class learning opportunities for students. MSU President Mark E. Keenum, along with Vice President for Research and Economic Development Julie Jordan, and Vice President for the Division of Agriculture, Forestry and Veterinary Medicine Keith Coble, applauded the significant work carried out every day by the university's researchers and support staff.
Keenum noted that on a per capita basis, MSU faculty are among the most productive in the Southeastern Conference, which is a testament to their research skills and dedication.
"I want to say thank you for what you do and how you represent this institution," Keenum said. "You are doing important work for our state, our nation and our world. It is very obvious to me that you have passion, discipline and focus. You also have a commitment to our students, enabling them to be a part of this important research journey, and instilling in them the importance of obtaining knowledge and sharing that knowledge with others for the betterment of society. Thank you for what you do."
The awards are co-sponsored by the offices of the MSU vice presidents for Research and Economic Development and the Division of Agriculture, Forestry and Veterinary Medicine.
Nicholas Fitzkee, professor in MSU's Department of Chemistry, was presented the program's top honor, the 2023 Ralph E. Powe Research Excellence Award. The Powe Award is a memorial to the MSU alumnus and longtime research vice president who died in 1996. It is selected at the university level from nominations received from the MSU community.
An MSU faculty member since 2011, Fitzkee is the director of MSU's Nuclear Magnetic Resonance Facility. His accomplishments include nearly 50 published articles, many of which have been in high-impact journals such as Nature Communications, as well as securing approximately $6 million in grant support. He recently received a $3.1 million National Science Foundation Major Research Instrumentation grant to install the state's first nuclear magnetic resonance spectroscopy system. He consistently mentors junior faculty members and assists them with grant writing, helping to advance individual careers and the institution as a whole.
Finalists for the Powe Award were Peter Allen, professor in the Department of Wildlife, Fisheries and Aquaculture, and Dan Petrolia, professor in the Department of Agricultural Economics.
Chosen from a competitive pool of nominations, the other 2023 research award winners include:
—Colleen Scott, associate professor in the Department of Chemistry, Mid-Career Research Scholar Award;
—Priya Chakrabarti Basu, assistant professor in the Department of Biochemistry, Molecular Biology, Entomology and Plant Pathology, Emerging Research Scholar Award;
—Jan Chambers, Giles Distinguished Professor in the College of Veterinary Medicine, Innovation and Entrepreneurship Award;
—Kyle Ryker, research engineer II at Raspet Flight Research Laboratory, Research Professional Award; and
—Natalie Young, research administrator at the High Performance Computing Collaboratory, recipient of the Research Support Award.
MSU also recognized researchers who developed new intellectual property and patented/licensed new technology. The Office of Technology Management recognized the following individuals for patents received in 2023:
—Thedford "Keith" Hollis and Charles Edwin Webster – "Unsymmetrical Salts, CCC-NHC Pincer Metal Complexes, and Methods of Making the Same."
—Mark Novotony – "Materials and Devices that Provide Total Transmission of Electrons Without Ballistic Propagation and Methods of Devising Same" and "Method and System for a Quantum Oracle to Obtain the Number of Quantum Ground States."
—John Ball, Reuben Burch, Harish Chander and David Saucier – "Wearable Flexible Sensor Motion Capture System."
Learn more about the Office of Research and Economic Development at www.research.msstate.edu or the Division of Agriculture, Forestry and Veterinary Medicine at www.dafvm.msstate.edu.
Mississippi State University is taking care of what matters. Learn more at www.msstate.edu.