Contact: Vanessa Beeson
STARKVILLE, Miss.—Students in all levels of higher education—at Mississippi State and other universities across the country—are advancing as researchers in various disciplines after benefitting from two separate MSU research experience programs, in partnership with the U.S. Department of Agriculture.
MSU/USDA Graduate Summer Research Experience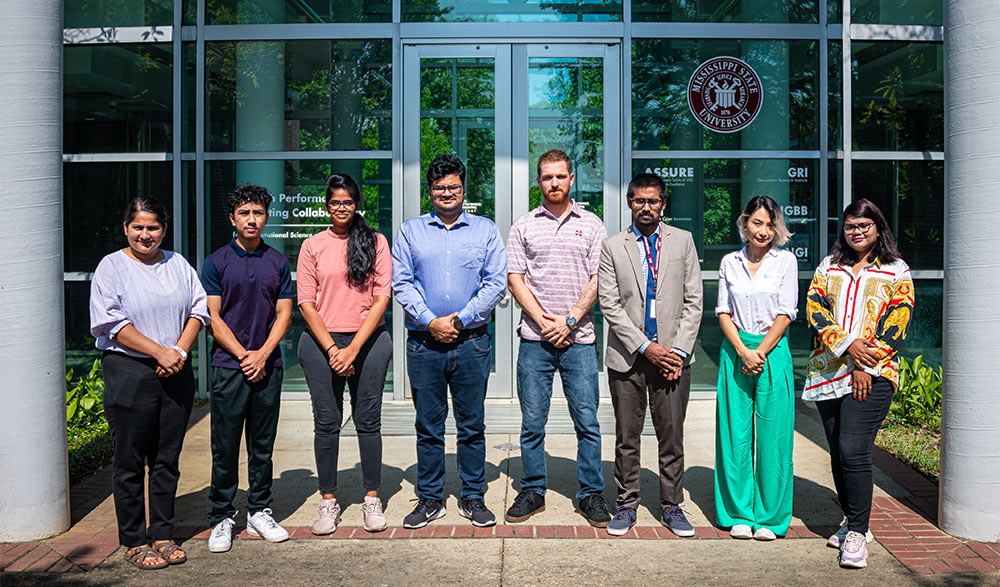 The MSU/USDA Graduate Summer Research Experience program, hosted in the Geosystems Research Institute, is a nine-week program for master's and doctoral students interested in agricultural productivity, disease ecology, geospatial analysis, artificial intelligence and machine learning, epidemiology, genomics and bioinformatics. Students are selected by project faculty mentors to work on individual research projects that involve geospatial technologies and high-performance computing. While at MSU, students engage in customized training and visit several MSU and USDA research sites around the state.
"Graduate students learn cutting-edge knowledge and skills about high-performance computing, machine learning and their applications that they can immediately apply to their research projects about agriculture and natural resource management," said Yun Yang, an assistant professor of forestry and faculty mentor.
Nargis Mirzaie, a graduate student from University of Massachusetts Amherst, was mentored by Joby Czarnecki, associate research professor in MSU's Department of Plant and Soil Sciences and GRI. Mirzaie, who developed a passion for water research while growing up in the Middle East, said the experience taught her skills to help in her doctoral pursuits. Under the direction of Czarnecki and Nazanin Tajik, assistant professor in the Department of Industrial Systems Engineering, she applied her knowledge of water resources and optimization to construct a model for drawing irrigation water from the Mississippi Alluvial Aquifer and on-farm storage.
"Water is a big topic back home because of the area's arid location. Water is essential to food and energy security, and I enjoyed applying my knowledge of water resources to a project focused on the Mississippi Delta," Mirzaie said. "For me, the best parts of the research experience were learning new skills related to my area of study and building connections with people."
Additional faculty mentors included Melanie Boudreau, Department of Wildlife, Fisheries and Aquaculture; Vitor Martins, Department of Agricultural and Biological Engineering; Nisha Pillai and Ram Ramkumar, Department of Computer Science and Engineering; and GRI's Sathish Samiappan.
MSU students in the MSU/USDA Summer Research Experience included Hafez Ahmad of Bangladesh, wildlife, fisheries and aquaculture; Ahmed Alam of Bangladesh, electrical and computer engineering; Tamanna Rashme of Bangladesh, computer science; Ramyasri Veerapaneni of India, computer science; and Ian Sartorio of Brazil, forestry. Visiting students in addition to Mirzaie included Bini Dahal, North Carolina State University; and Lyem Ningthou, University of California, Berkeley.
Research and Extension Experiences for Undergraduates
On the other side of campus, the MSU Department of Sustainable Bioproducts in the College of Forest Resources hosts Research and Extension Experiences for Undergraduates, or REEU, funded through a USDA National Institute of Food and Agriculture grant. Guided by faculty mentors, the participants immerse themselves in 10-week summer research/extension projects covering a variety of topics, including wood science, bioenergy, bioremediation and renewable materials and composites.
Assistant Professor Yunsang Kim is the project's principal investigator.
"The REEU program promotes research and extension learning experiences for undergraduates such that, upon graduation, they may enter the workforce with exceptional skills. It's gratifying to introduce Mississippi undergraduates to wood science and the forest products sector, which is a major contributor to the state's economy," Kim said.
The program, which began last year, has mentored 17 undergraduates to date.
"Not only do we get to teach students about wood science, but this is also a great recruiting tool. Two of the 2022 REEU participants started their graduate studies this fall at MSU," Kim said.
Beth Stokes, Frank Owens and Jason Street, all MSU associate professors, are co-investigators and faculty mentors. Gwen Boyd-Shields, associate professor; Adriana Costa and Mostafa Mohammadabadi, assistant professors, also are faculty mentors.
Surabhi Gupta, an MSU junior wildlife, fisheries and aquaculture major from India, said the experience has given her a multidisciplinary view of how research is applied to industry through extension.
"Originally, I wanted to immediately work in academia, but I think I'll spend some time working in the industry first. I hope that will help me become a better scholar," Gupta said.
In addition to Gupta, MSU students in the program included Paul Gramelspacher of Thomasville, Alabama, chemical engineering; and Megan Berry of Pearl, mechanical engineering. Visiting students included Devon Mabry, Coahoma Community College; Carson Bedics, Auburn University; Micaiah McDonald, Alcorn State University; and Eric Brannon and Adrian Rhoden, Alabama A&M University.
For more information on the Geosystems Research Institute, visit www.gri.msstate.edu. Visit the Department of Sustainable Bioproducts in MSU's College of Forest Resources at www.bioproducts.msstate.edu.
Mississippi State University is taking care of what matters. Learn more at www.msstate.edu.