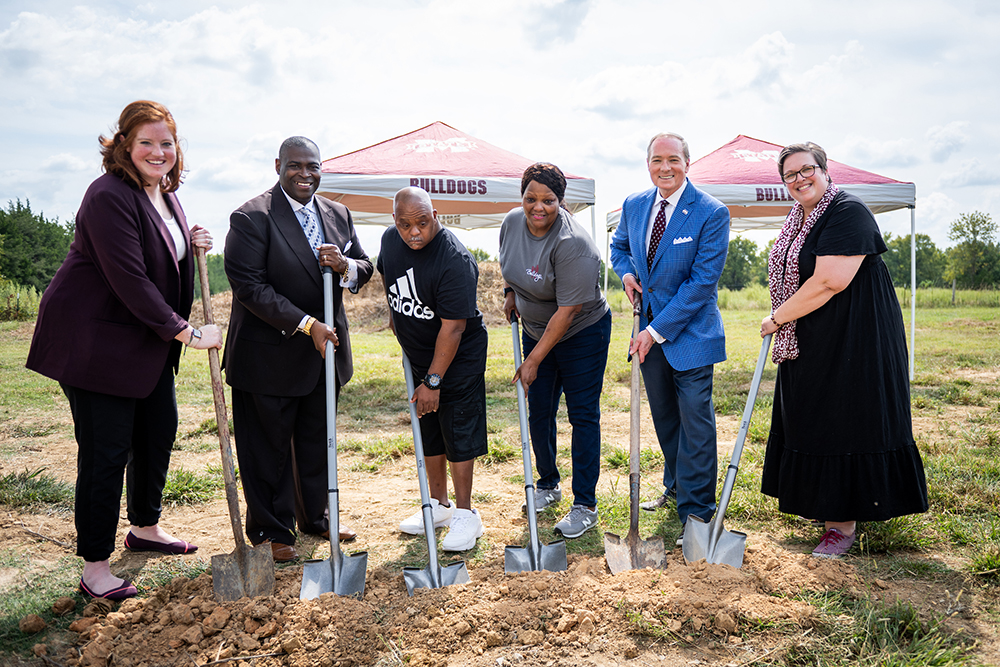 Contact: Carl Smith
STARKVILLE, Miss.—When Twana Hubbard tried to put into words what receiving the 15th Maroon Edition Habitat for Humanity home means to her and her family, she was so overcome with emotion that her daughter, Shaquandra Coleman, had to step in and speak for her.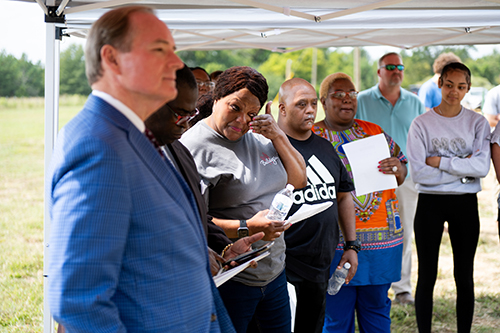 Mississippi State representatives, Starkville Habitat for Humanity officials, student volunteers and community members gathered off 16th Section Road in rural Oktibbeha County with Hubbard and her family Friday to break ground at the site that will become home for her and her brother, R.D. Coleman. Hubbard, who cares for her sibling, is a Starkville High School cafeteria worker of almost two decades, and her home is the 75th constructed in Oktibbeha County by the local Habitat chapter since 1986.
"It just means so much to me and my family," Hubbard said later in the day. "This is lifechanging."
Once complete, Hubbard's home will be the third Habitat house constructed in Kelly Estates, a former 11-acre dairy farm. In the coming years, area volunteers—including many MSU students—will transform the site into a 30-home Habitat community.
"This is an opportunity to come and help a family build a foundation, and I think that's something to celebrate; I think that's something that's beautiful," said Alexis Hampton, the assistant director of MSU's Office of Student Leadership and Community Engagement who oversees the Maroon Volunteer Center and other civic and community engagement initiatives at the university. "I want to give recognition to the MSU community, as well as the surrounding community, for doing something bigger than yourselves. We recognize the amazing work that's being done here by our students. These are lifelong connections they're taking with them, and they're learning how to show up for their community and be community-driven leaders."
MSU President Mark E. Keenum and Regina Hyatt, vice president for student affairs, both reflected on former President Jimmy Carter's legacy of outreach through Habitat for Humanity and said they hope this project will inspire student volunteers to continue giving back to their communities throughout their lives.
"For those who come here and give their time and effort for this wonderful family, that's showing your love. For that, I'm truly thankful and greatly appreciate it," Keenum said.
"To Twana and her family, my hope for you today is that this moment is the beginning of a new journey for your family—a journey that will be filled with the joy of knowing this home will be yours, the peace that comes from having a place to call home, and excitement for the laughter and fun you will share in this place," Hyatt added. "It's my hope that the experience our students and all the other volunteers, who will help in the construction of this home and neighborhood, will lead them to a lifetime of service, reconciliation and peace as well."
Mississippi State University is taking care of what matters. Learn more at www.msstate.edu.