Contact: Aspen Harris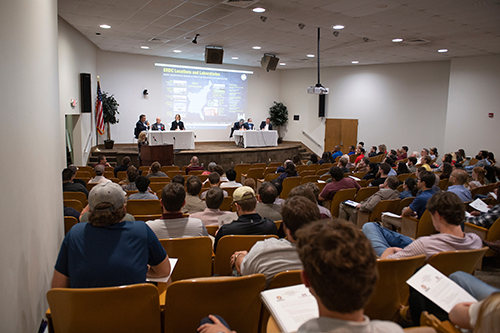 STARKVILLE, Miss.—Mississippi State will host professionals from the U.S. Army Engineer Research and Development Center next Wednesday-Thursday [Oct. 25-26] for discussions with students and employees on research collaborations, internships and employment, as well as keynote presentations by university and ERDC speakers.
The events mark the second annual "ERDC Days" hosted by MSU. In addition to guest lectures from ERDC researchers in MSU classrooms Wednesday-Thursday, center representatives will host an informal social event for university students and employees 4-7 p.m., Wednesday in Colvard Student Union's Foster Ballroom. Students can visit room 231 in the Union from 8 a.m. - 5 p.m. on Oct. 25 and 8 a.m. – 12 p.m. on Oct. 26 for open talks with ERDC personnel about potential career opportunities.
Keynote presentations will be given 2-4 p.m., Thursday in Lee Hall's Bettersworth Auditorium. Speakers include MSU Vice President for Research and Economic Development Julie Jordan, ERDC Director David W. Pittman and ERDC Research Civil Engineer Quincy G. Alexander.
Based in Vicksburg, ERDC is the research unit of the U.S. Army Corps of Engineers and a major research partner for the university, in addition to being among the largest employers of MSU engineering graduates. For more on ERDC, visit http://www.erdc.usace.army.mil/.
Mississippi State University is taking care of what matters. Learn more at www.msstate.edu.