Contact: Aspen Harris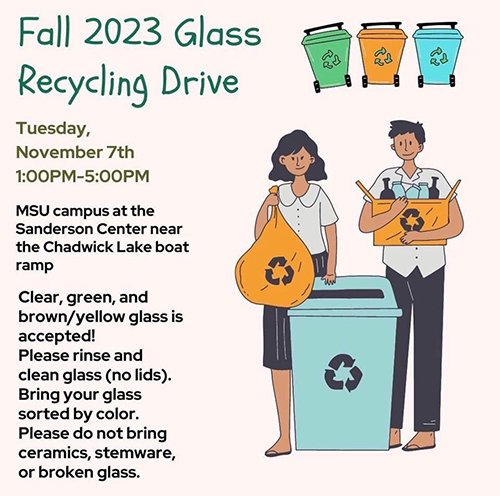 STARKVILLE, Miss.—Bulldogs can get in the game as Mississippi State's Office of Sustainability competes in the Glass Recycling Egg Bowl against the University of Mississippi on Nov. 7.
In partnership with Door 2 Door Recycling of Jackson, the MSU sustainability office will collect clear, green, brown and yellow glass from 1-5 p.m. near Chadwick Lake's boat ramp at the Sanderson Center.  All glass must be lid-free and clean. Stemware, ceramics and broken glass will not be accepted.
The university collecting the most pounds of glass from their individual drives will receive a glass Egg Bowl trophy.
Maria Timberlake, an Office of Sustainability intern and senior natural resource and environmental conservation major from Hoover, Alabama, said recycling glass allows for the creation of new products and many benefits for the environment.
"Glass can be recycled without losing quality, meaning that a product made of recycled materials is just as good as a new product," Timberlake said. "By recycling glass instead of creating new glass, we can reduce air and water pollution, save energy and decrease the number of glass items filling up space in landfills."
For more on MSU's Office of Sustainability, visit www.sustainability.msstate.edu/.
Mississippi State University is taking care of what matters. Learn more at www.msstate.edu.