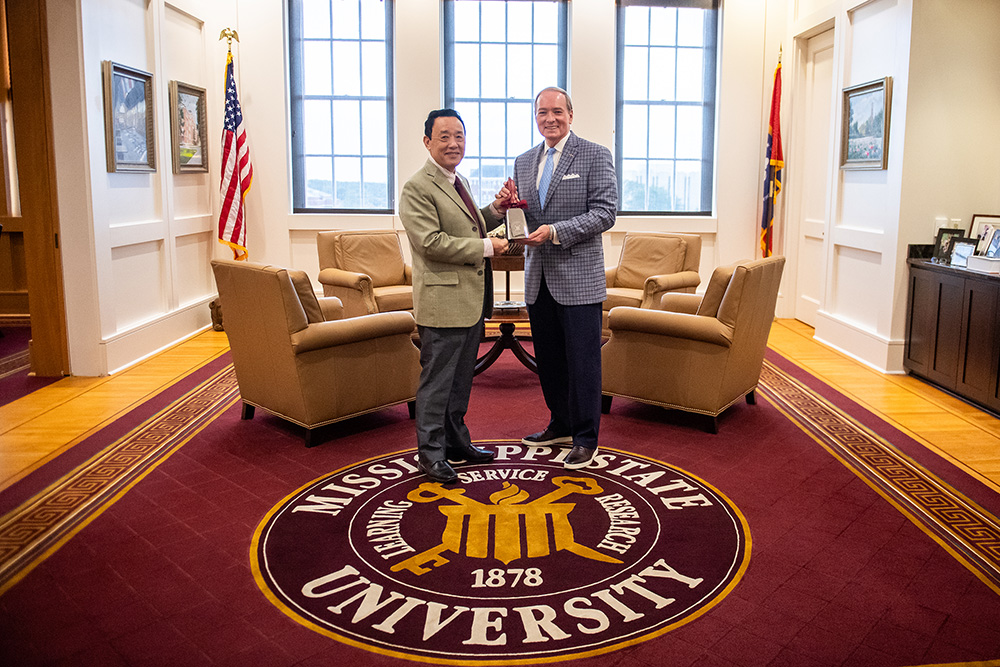 Contact: Alaina Dismukes and James Carskadon
STARKVILLE, Miss.—Strengthening ties between Mississippi State and the Food and Agriculture Organization of the United Nations, MSU hosted FAO Director General Qu Dongyu Monday [Oct. 23] to learn more about the university's research capabilities.
During his visit, Qu toured MSU's Feed the Future Innovation Lab for Fish and aquaculture research facilities, as well as the High Performance Computing Collaboratory, in addition to meeting with senior MSU officials.
"We are extremely proud of our work with the FAO and pleased to host Director General Qu Dongyu for a visit to our campus," said MSU President Mark E. Keenum. "MSU and the FAO have a mutual commitment to improving global food security, something that requires close-knit international collaboration. We look forward to growing our many productive partnerships with the FAO and working together to help feed our world."
In June, MSU and FAO officials celebrated the university's designation as an international FAO Reference Center for Antimicrobial Resistance and Aquaculture Biosecurity. The reference center, managed through MSU's Global Center for Aquatic Health and Food Security in the College of Veterinary Medicine, is part of a coordinated international effort to better understand and reduce the level of antimicrobial resistance in aquaculture. Antimicrobial resistance occurs when germs like bacteria gain the ability to resist drugs designed to kill them. According to the FAO, antimicrobial resistance is a major global threat with implications for food safety and food security. MSU also leads the U.S. Agency for International Development-funded Feed the Future Innovation Lab for Fish, which was recently extended for another five years with $15 million in new funding.
"It is good that USAID is supporting this development in countries to produce more fish," said Qu. "I appreciate this work being done here. I was a scientist for 25 years and consider myself a scientist first, and I wanted to see more of the work being done in aquaculture. Aquaculture is an important priority to us to promote animal protein production."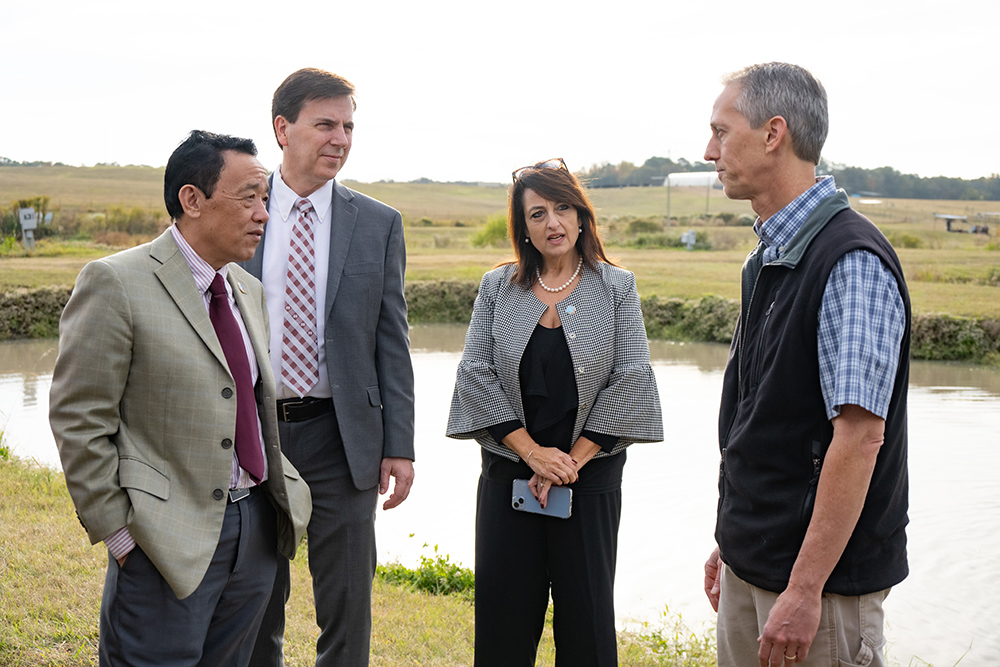 Mark Lawrence, MSU William L. Giles Distinguished Professor and director of the Fish Innovation Lab, serves on the technical working group for FAO's Progressive Management Pathway for Improving Aquaculture Biosecurity, which focuses on assisting countries to achieve sustainable biosecurity and health management systems.
"Collaborating with FAO on antimicrobial resistance is important to help mitigate current and future risks to effectively manage fish health in aquaculture," Lawrence said.
During Qu's visit, MSU Chief Technology Transformation Officer Trey Breckenridge highlighted the university's supercomputing resources, sharing how researchers are using one of the most powerful computing systems in U.S. academia to better understand agricultural, environmental, biological and engineering systems. MSU boasts two supercomputers ranked among the 500 most powerful in the world and has significant high-performance computing partnerships with federal agencies such as the National Oceanic and Atmospheric Administration and the U.S. Department of Agriculture.
"We are honored to have FAO visiting Mississippi State University and for the Director General to come to rural America and see what we're doing in the heartland," MSU Provost and Executive Vice President David Shaw said. "This partnership is incredibly important to us because of the great impact we are able to make together."
Mississippi State University is taking care of what matters. Learn more at www.msstate.edu.