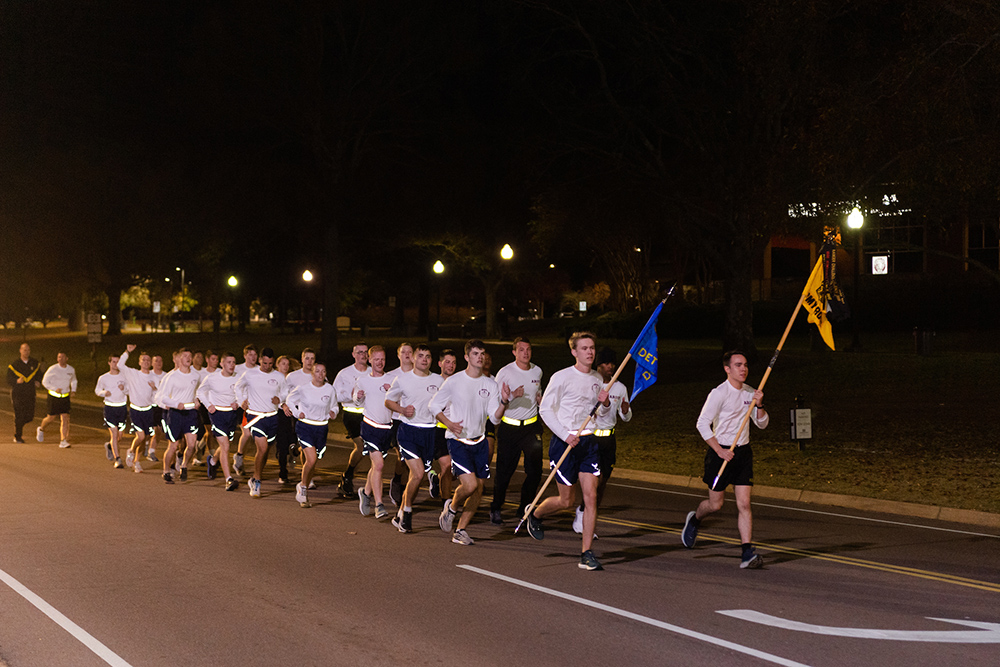 Contact: Aspen Harris
STARKVILLE, Miss.—An Egg Bowl tradition continues Sunday [Nov. 19] when Mississippi State University and University of Mississippi Army ROTC cadets partner for the 11th annual Egg Bowl Run.
Army ROTC cadets will carry a football from Oxford to Starkville, leaving Ole Miss before dawn and arriving in Starkville on Sunday evening. Ole Miss cadets will carry the ball from Oxford to Calhoun City, where they will hand it off to MSU cadets for the second leg of the nearly 100-mile run to Starkville. The transfer of the ball will take place at approximately 1:45 p.m. in the Calhoun City square. MSU Air Force ROTC cadets also will participate in the run.
The ceremonial game ball will be delivered to Davis Wade Stadium at the completion of the run on Sunday evening. It will be signed by the MSU and UM coaches.  
MSU Army ROTC Director Lt. Col. Jason Posey said the Egg Bowl run is one of his favorite MSU Army ROTC events.
"It's an opportunity for cadets to challenge themselves, with some running 15+ miles of the approximately 60-mile distance.  It's also an opportunity to see cadets grow in the program as they plan and coordinate the event.  It's a chance to collaborate with Ole Miss ROTC programs to have a friendly rivalry and support a local food drive," said Posey, who also serves as an MSU military science professor.  "The community and Calhoun City Chamber of Commerce do a phenomenal job hosting a ceremony and feeding our cadets.  I've been amazed at the amount of people that cheer us along and break out their cowbells as we pass by. Lastly, the MSU Athletic Department and coaching staff have always been supportive with the game ball presentation ceremony when I know they are so busy getting ready to beat Ole Miss."
A food drive also will be held along with the run as the ROTC units bring canned goods to Calhoun City. The Calhoun County food pantry will distribute the food to those in need. Food drive donations can be dropped off at MSU's Army ROTC headquarters in Middleton Hall.
Along with the traditional run between Oxford and Starkville, an overseas Egg Bowl Run recently was held in Kuwait. The run was carried out by 92 members of the Mississippi Army National Guard's 168th Theater Engineer Brigade, 185th Expeditionary Combat Aviation Brigade and 1-155th Combined Arms Battalion. MSU and Ole Miss supporters ran the football 84 miles for the second time since the first such event on foreign soil in 2018.
Maj. Scott Edwards, a chaplain of the 168th Theater Engineer Brigade and overseas run organizer, said the group had a great time with the event.
"This is such a great event because it connects our soldiers with our universities back home, promotes physical fitness, bolsters soldier morale and overall helps us increase soldier resiliency," said Edwards, who also serves as an Extension instructor with MSU's National Training Academy in partnership with the USDA Wildlife Services.
The Bulldogs and Rebels will face off Thanksgiving Day, Nov. 23, in the Egg Bowl at 6:30 p.m. in Davis Wade Stadium. The game will be televised on ESPN.
For more on MSU's Army ROTC, visit www.armyrotc.msstate.edu.
Mississippi State University is taking care of what matters. Learn more at www.msstate.edu.