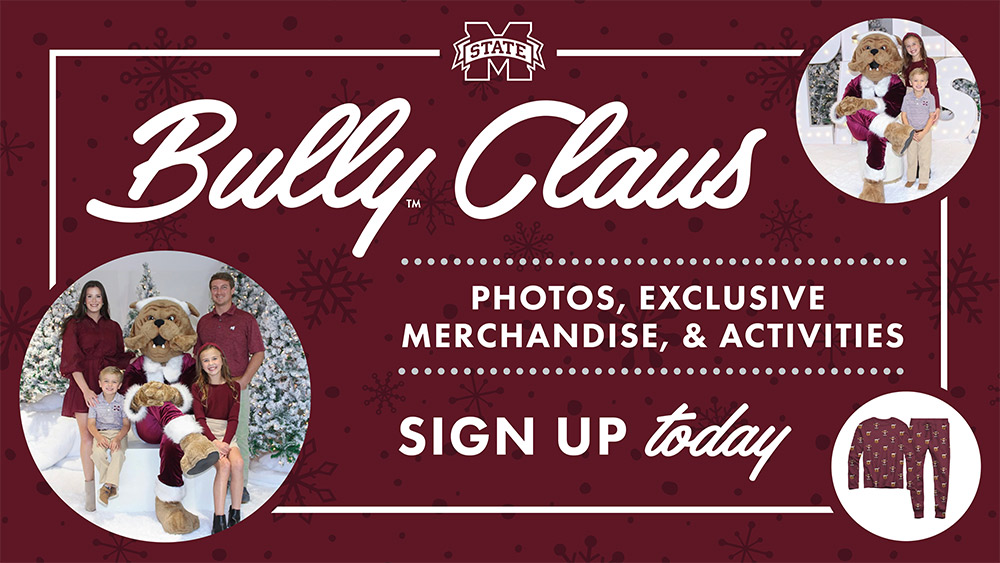 We're excited to announce the debut of Bully Claus at the Hub downtown!  Don't miss the opportunity to have your family meet Bully Claus and get your holiday photos taken just in time for the perfect holiday cards! 
All faculty and staff are invited to join in the fun Tuesday, Nov, 7 - Thursday, Nov. 9 from 2-7 p.m.  Faculty and staff will be able to take advantage of a special discounted rate of only $35.00 per family.       
Bully Claus Event Highlights:    
—Family Photos with Bully Claus and MSU Spirit Groups: Capture cherished moments with your family members and Bully Claus! Our festive photo booth will be the perfect backdrop for your holiday memories. Our photographer will allow your group four pose options and email them to you after the event for unlimited printing. Spirit Squad members also will be at the event for photos.     
—Exclusive Merchandise: Don't miss the chance to snag some exclusive Bully Claus merchandise, including limited-edition clothing, accessories, and more.  These make fantastic gifts for every MSU fan!    
—Festive Activities: While you wait for your turn to meet Bully Claus, we've got a range of fun activities to keep you entertained. Enjoy holiday crafts, movies, and more!    
Don't wait! Secure your spot for this enchanting event by signing up now at HailState.com/BullyClaus and enter Promo Code: ATHSTAFF2023.  Availability is limited, so act fast to ensure you and your family can participate in Bully Claus!