Contact: Carl Smith
STARKVILLE, Miss.—Mississippi State is celebrating First-Generation Scholars Week beginning Monday [Nov. 6] with numerous events recognizing and supporting those who will become the first in their families to graduate with a college degree.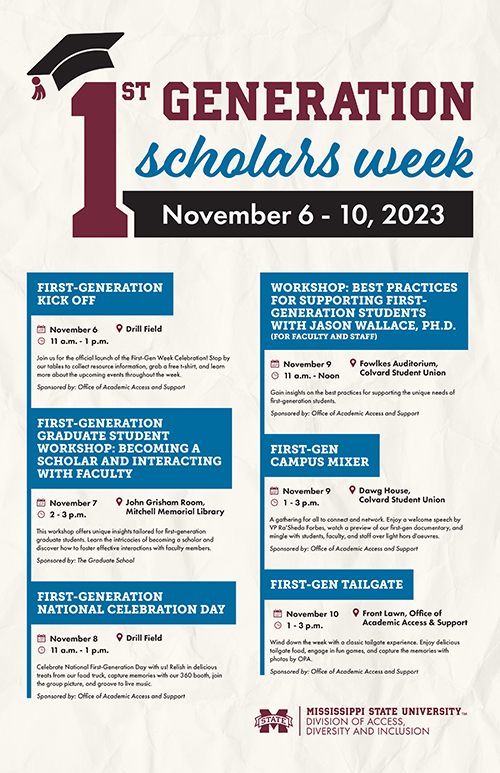 The week coincides with Wednesday's [Nov. 8] national First-Generation College Celebration Day. Events include:
—Monday [Nov. 6], 11 a.m.-1 p.m., Drill Field. First-Generation Kickoff. Stop by tables to collect resource information, grab a free T-shirt and learn more about first-generation student supports at this MSU Office of Academic Access and Support-sponsored event.
—Tuesday [Nov. 7], 2-3 p.m., John Grisham Room, Mitchell Memorial Library. First-Generation Graduate Student Workshop: Becoming a Scholar and Interacting with Faculty. This workshop, sponsored by the MSU Graduate School, will offer insights tailored to first-generation graduate students. Learn the intricacies of becoming a scholar and discover how to foster effective interactions with faculty members.
—Wednesday [Nov. 8], 11 a.m.-1 p.m., Drill Field. National First-Generation Day. Join the OAAS and celebrate with treats from food trucks, capture memories in a 360-degree photo booth and enjoy live music.
—Thursday [Nov. 9], 11 a.m.-noon., Fowlkes Auditorium, Colvard Student Union. Workshop: Best Practices for Supporting First-Generation Students. Faculty and staff will gain insights on the best practices for supporting the needs of first-generation students. This OAAS-sponsored event features Jason Wallace, an MSU assistant professor of higher education.
—Thursday [Nov. 9], 1-3 p.m., Dawg House, Colvard Student Union. First-Gen Campus Mixer. Sponsored by the OAAS, this event will allow students to connect and network, and features a welcome speech by Vice President for Access, Diversity and Inclusion Ra'Sheda Forbes, a preview of MSU's first-generation student documentary and light hors d'oeuvres.
—Friday [Nov. 10], 1-3 p.m., front lawn of the OAAS, 236 Famous Maroon Band St. First-Gen Tailgate. Wind down the week with a classic tailgate experience hosted by the OAAS.
This fall, MSU received the First-Gen Forward designation from the national Center for First-Generation Student Success, an initiative of NASPA—Student Affairs Administrators in Higher Education—and the Suder Foundation based on the university's commitment to improving the experiences and outcomes of first-generation students, or students who are the first in their family to complete a four-year bachelor's degree.
These MSU students are supported by TRiO Student Support Services, which offers additional guidance for navigating higher education, in addition to student support resources available across campus. The Division of Access, Diversity and Inclusion sponsors programing that celebrates their achievements and helps them connect with peers. Additional events help educate faculty and staff across campus on ways to be supportive.
Launched by the Council for Opportunity in Education and the Center for First-Generation Student Success in 2017, First-Generation College Celebration Day commemorates President Lyndon Johnson's signing of the Higher Education Act, which created federal financial aid programs, including the federal TRiO programs, that promote postsecondary access, retention and completion for limited-income, first-generation students.
Mississippi State University is taking care of what matters. Learn more at www.msstate.edu.