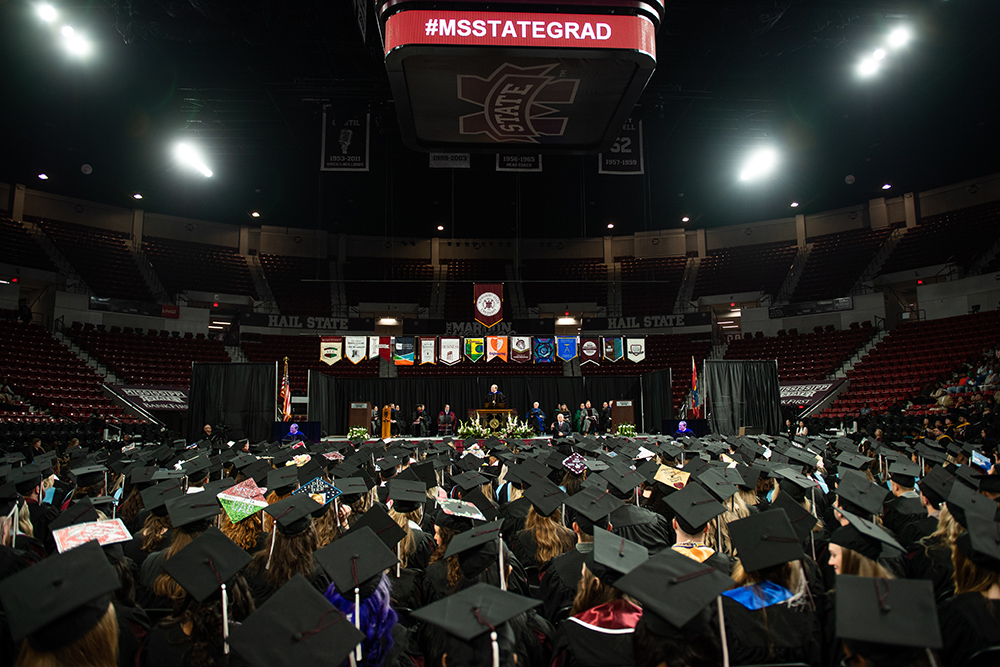 Contact: Aspen Harris
STARKVILLE, Miss.—Mississippi State University graduates will complete their higher education with commencements on Dec. 7 and 8 in Meridian and Starkville.
MSU President Mark E. Keenum will serve as the featured speaker for this year's ceremonies and will award bachelor's, master's, education specialist and doctoral degrees. The Meridian and Starkville campus ceremonies can be watched remotely via the MSU TV Center's livestream at https://utc.msstate.edu/mstv/.
Starkville graduates are limited to eight guests, while Meridian graduates can bring up to six. There is no cost for the tickets emailed to graduates with instructions for downloading. Also, security screenings will take place upon entry.
Guest seating is general admission. Graduates will be seated after checking in, but an entrance processional is not scheduled for the ceremonies. Humphrey Coliseum guests may leave when their graduate exits the stage by exiting through the main coliseum entrances on the east and west sides of Mize Pavilion.
Complete logistical information for visitors planning to attend the ceremonies at Humphrey Coliseum can be found at www.registrar.msstate.edu/students/graduation. MSU's fall 2023 graduation schedule is as follows:
Thursday, Dec. 7:
11 a.m.: Meridian Campus, MSU Riley Center.
4 p.m.: Doctoral Graduation and Hooding Ceremony, Bettersworth Auditorium, Lee Hall, Starkville. This is an invitation-only event.
Friday, Dec. 8:
9:30 a.m. (doors open at 8 a.m.): Starkville Campus, Humphrey Coliseum: Academic Affairs, College of Architecture, Art and Design, College of Arts and Sciences, College of Education, and College of Professional and Continuing Studies.
3:30 p.m. (doors open at 2 p.m.): Starkville Campus, Humphrey Coliseum: Bagley College of Engineering, College of Agriculture and Life Sciences, College of Business, College of Forest Resources, and College of Veterinary Medicine.
Mississippi State University is taking care of what matters. Learn more at www.msstate.edu.