Contact: James Carskadon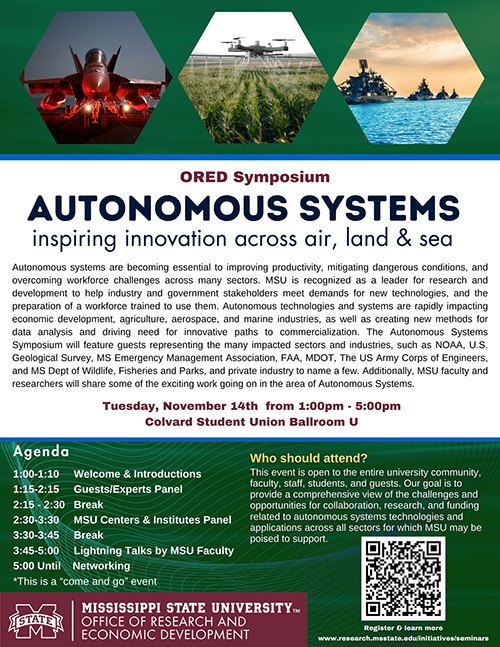 STARKVILLE, Miss.—Mississippi State University is hosting a symposium this Tuesday [Nov. 14] to inspire innovation in autonomous systems across air, land and sea.
Taking place from 1 p.m. until 5 p.m. in the Colvard Student Union Ballroom U, the come-and-go event is open to the entire university community and guests. The symposium begins with a panel featuring guests from organizations such as the U.S. Army Corps of Engineers, National Oceanic and Atmospheric Administration, U.S. Geological Survey, Mississippi Department of Wildlife, Fisheries and Parks, the Association for Uncrewed Vehicle Systems International, Mississippi Department of Transportation and WISPR Systems.
The second half of the program will feature a panel with guests representing MSU research centers and institutes, as well as lightning talks from MSU faculty members.
MSU's Office of Research and Economic Development organized the event because autonomous systems are proving essential to a variety of sectors and industries, with applications for improving productivity, mitigating dangerous conditions and overcoming dwindling workforces. MSU is recognized as a leader for research and development to help industry and government stakeholders meet demands for new technologies, and the preparation of a workforce trained to use them. Autonomous technologies and systems are rapidly impacting economic development, agriculture, aerospace and marine industries, as well as creating new methods for data analysis and driving need for innovative paths to commercialization. Tuesday's symposium will share insights into the impacts and potential of autonomous technologies from a diverse range of perspectives.
For more on MSU's Office of Research and Economic Development, visit www.research.msstate.edu.
Mississippi State University is taking care of what matters. Learn more at www.msstate.edu.