Contact: Aspen Harris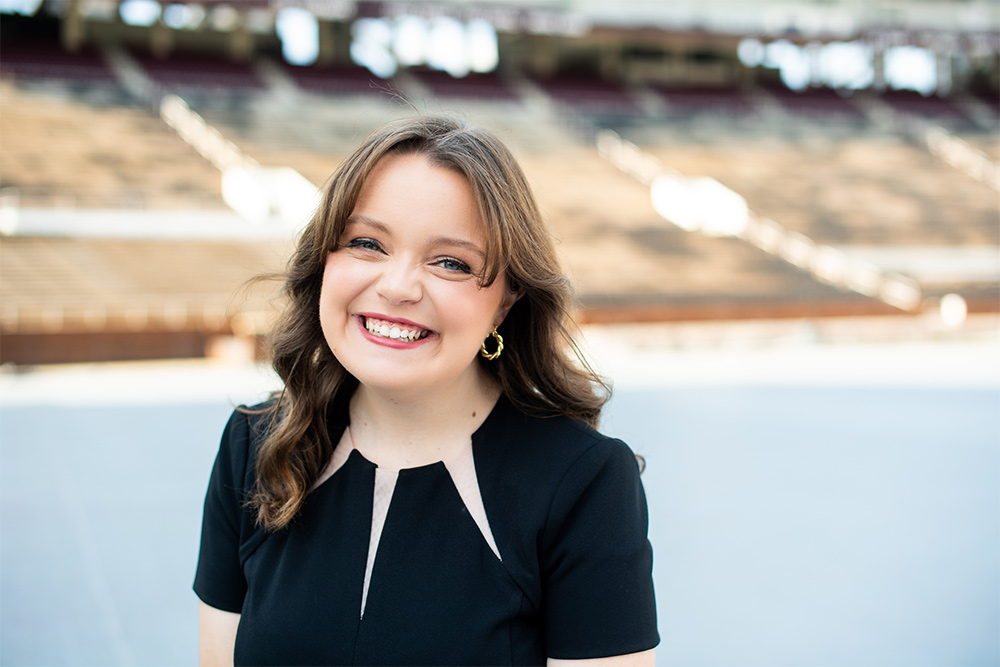 STARKVILLE, Miss.—Mississippi State Presidential Scholar Ann Olivia Radicioni is the university's newest Rhodes Scholarship finalist.
The senior political science major and Shackouls Honors College student from Clinton also is being honored by the university this week as Miss MSU and will be introduced this Saturday [Nov. 4] alongside other members of the 2023 Homecoming Court. Radicioni then will interview Nov. 10-11 in Birmingham, Alabama, for the world's oldest and most prestigious international graduate scholarship. Criteria for selection as a Rhodes Scholar include demonstrated scholarly achievement, character, commitment to others and the common good, as well as leadership potential.
Radicioni is MSU's seventh finalist in the last 12 years, joining graduates Reese Dunne, Natalie Jones, Holly Travis, Semaj Martin-Redd and Christopher Robinson who also attained the prestigious honor as Rhodes finalists. Donald "Field" Brown, a Vicksburg native who majored in English and philosophy, was named a Rhodes Scholar in 2013.
The Rhodes Trust, a British charity established in the will of businessman and mining magnate Cecil J. Rhodes, promotes international understanding and provides full financial support for students pursuing graduate degrees at the University of Oxford, the first institution of its kind in the English-speaking world and one of the world's leading institutions of higher learning.
At MSU, Radicioni began her university tenure with a G.V. "Sonny" Montgomery Presidential Endowed Scholarship. During her academic career, she has served in multiple leadership roles within the university's Student Association and has worked as a student researcher on multiple faculty-led projects within the Department of Political Science and Public Administration. This past summer, she interned with the U.S. Commission on Security and Cooperation in Europe and currently is an intern with the U.S. Department of State's Diplomat in Residence for the Central South Region. She is a Delta Gamma sorority member, Roadrunner student recruiter, New Maroon Camp counselor and 2021 selection for MSU's prestigious Spirit of State Award.
David Hoffman, associate professor in the MSU College of Arts and Sciences' Department of Anthropology and Middle Eastern Cultures and director of the Office of Prestigious External Scholarships, mentors students like Radicioni applying for national, merit-based scholarships and fellowships.
"We are beaming with pride to have Ann Olivia join the elite group of Rhodes finalists. Through taking advantage of various opportunities both at MSU and beyond, Ann Olivia has built a portfolio that speaks to the Rhodes selection criteria. She is a committed and engaged student of political science, has collaborated with faculty on multiple research projects, has practical international policy experience in Washington, D.C., with the Helsinki Commission, and is active in student government leadership," Hoffman said.
"Perhaps what is most striking and obvious from any interaction with Ann Olivia is her commitment to the betterment of others. Ultimately, Ann Olivia truly embodies the Rhodes through her commitment to scholarship, leadership and service for the betterment of humanity," he said.
For more information about the Rhodes Scholarship, visit www.rhodesscholar.org.
Learn more about MSU's Judy and Bobby Shackouls Honors College at www.honors.msstate.edu. The Department of Political Science and Public Administration within MSU's College of Arts and Sciences is online at www.pspa.msstate.edu.
Mississippi State University is taking care of what matters. Learn more at www.msstate.edu.