Contact: Aspen Harris
STARKVILLE, Miss.—The Starkville-MSU Community Band will present a variety of musical pieces at a free concert Sunday [Nov. 19].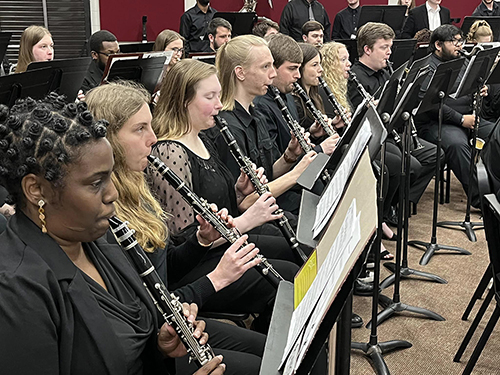 Including Golden Triangle residents, and some university faculty, staff and students, the band will perform at 2 p.m. in the Kent Sills Band Hall, located at 72 Hardy Road on Mississippi State's campus. Doors open at 1:30 p.m. The event is free and open to the public. 
The 40-minute program will feature pieces such as Clifton Williams' "Strategic Air Command March," a tribute to his former U.S. Air Force unit; the jazz piece "Sevens;" "Regenesis," a homage to the 1980 eruption of Mount St. Helens in Washington state and Earth's regenerative properties in the following years; Samuel Hazo's "Mountain Thyme;" and the oriental composition "Chinese Folk Rhapsody."
Band Director Johnny Folsom, an MSU Department of Music lecturer and supervisor for student interns, said the band is hoping for a big crowd at the concert.
"I know those in attendance will be amazed at what these volunteer musicians have accomplished through five, once-a-week rehearsals," he said.
To learn more about the MSU Department of Music, visit www.music.msstate.edu.
Mississippi State University is taking care of what matters. Learn more at www.msstate.edu.