Contact: Aspen Harris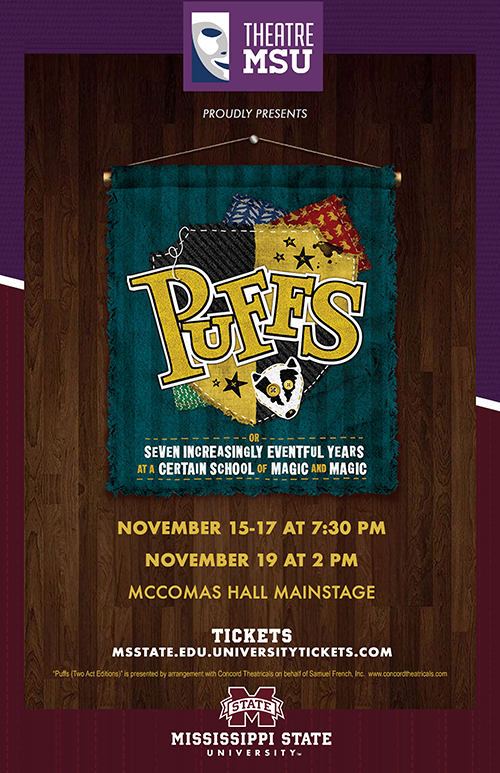 STARKVILLE, Miss.—Mississippi State's Theatre MSU presents a hilarious romp through a magical school for its second production of its 60th season.
"Puffs, or Seven Increasingly Eventful Years at a Certain School of Magic and Magic," opens Nov. 15 and continues Nov. 16-17 at 7:30 p.m. and Nov. 19 at 2 p.m. on McComas Hall's main stage. Admission is $10, and tickets may be purchased at https://msstate.universitytickets.com/ or at the door. 
The production is told from the perspective of the Puffs, the "least appreciated house in a wizard boarding school," according to Theatre MSU's production description.  
Lia Morris, a senior interdisciplinary studies major from Louisville and "Puffs" sound designer, said the show should be familiar to most audiences.  
"Everyone knows that story with that boy that went to that school for seven years," Morris said. "This is not that story but the Puff's story who just happened to be there too."
The show follows the seven years Puffs student Wayne Hopkins learns how to be a wizard with his friends.  
David Hintz, a senior communication major from Columbus and stage manager for the production, said he is looking forward to the audience's reaction to the show. 
"It's going to be a hoot and a holler," Hintz said. "I want people to come ready to laugh, to have a good time and to see a fast-paced comedy." 
Part of the College of Arts and Sciences, the Department of Communication, is online at www.comm.msstate.edu/. 
Follow Theatre MSU on Facebook, Twitter and Instagram @TheatreMSU.
Mississippi State University is taking care of what matters. Learn more at www.msstate.edu.