Contact: Sarah Nicholas
STARKVILLE, Miss.—Mississippi State's Institute for the Humanities hosts this month its final presentation of the fall semester— "What's up with Higher Education?"––an in-depth review of the current crises and challenges facing higher education in the U.S. and part of the ongoing "Conversations with a Humanist" lecture series.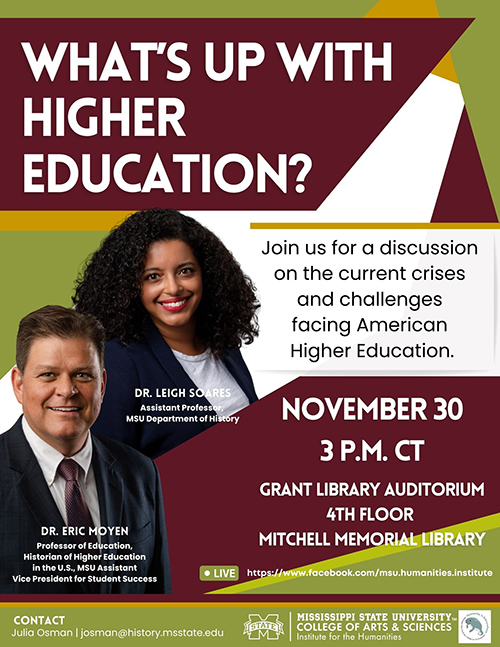 Presented at 3 p.m., Nov. 30, in the fourth floor Grant Library Auditorium of MSU's Mitchell Memorial Library, the conversation also will be streamed live on the Institute's Facebook page at www.facebook.com/msu.humanities.institute. The public is invited to participate in the conversation featuring two MSU panelists.
Panelists include Leigh Soares, assistant professor in MSU's Department of History who specializes in the history of education—specifically HBCUs in the 19th and early 20th centuries—and Eric Moyen, an assistant vice president for student success and a historian and professor of higher education in MSU's College of Education.
"Many of us in higher education or who value higher education have become deeply concerned by recent events and remarks seeking to end academic freedom and reduce educational opportunities in this country," said Julia Osman, Institute for the Humanities director and associate professor of history. "We will be guided by two people who not only see this problem from the inside, but can provide a long-term, academic perspective on this phenomenon. Dr. Moyen has written three books on the history of higher education in this country and currently serves in the Office of Student Success. Dr. Soares is an expert on higher education in the 19th-century, especially HBCUs, and she serves on the Committee of Academic Freedom for the Organization of American Historians." 
For additional information about the event, contact Osman at humanities@msstate.edu.
Part of MSU's College of Arts and Sciences, the Institute for the Humanities promotes research, scholarship and creative performances in the humanistic disciplines and raises their visibility, both within Mississippi State University and the wider community.
For more details about the College of Arts and Sciences or the Institute for the Humanities visit www.cas.msstate.edu or www.ih.msstate.edu.
Mississippi State University is taking care of what matters. Learn more at www.msstate.edu.