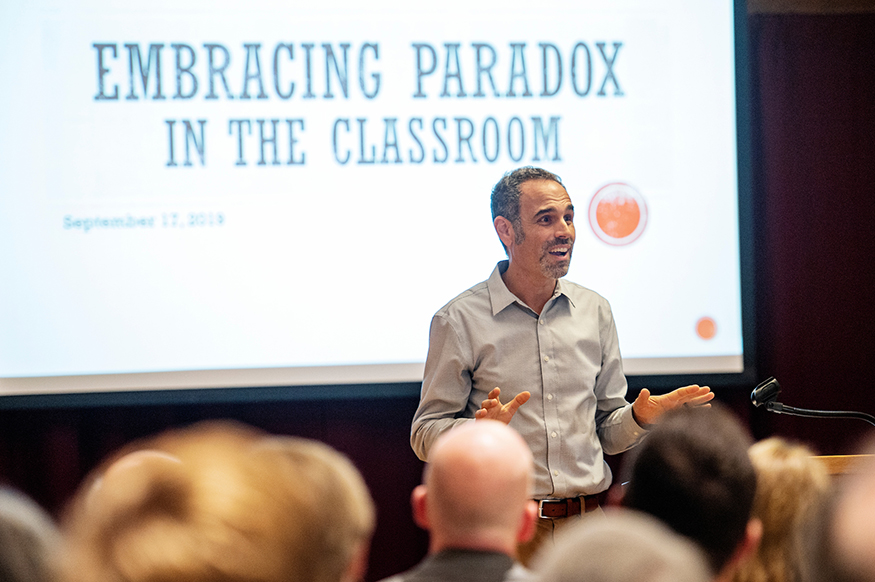 Contact: James Carskadon
STARKVILLE, Miss.—Mississippi State University's newest John Grisham Master Teacher encouraged faculty to embrace paradox in the classroom during a Tuesday [Sept. 17] lecture at MSU's Mitchell Memorial Library.
MSU Professor of English Michael Kardos gave the annual John Grisham Master Teacher Lecture, sponsored by MSU's Center for Teaching and Learning. Kardos is the co-director of MSU's creative writing program and has written several fiction works and a textbook on writing fiction.
Kardos, the 53rd MSU faculty member to earn the Grisham Master Teacher distinction since the award's 1993 inception, said it is important for teachers to explain to students why what they are doing matters and to foster a sense of curiosity.
"By studying creative writing and literature, I tell students that they are developing the skills they need to write effectively and persuasively, no matter what their eventual careers end up being," Kardos said.
Now in its 26th year, the Grisham Master Teacher Award is a tribute to classroom instruction excellence that is named for the MSU accounting alumnus and internationally recognized author who provided funds to endow the award. Recipients are chosen after a rigorous review process.
"This award is intended to have a positive impact on teaching here at Mississippi State," said MSU Provost and Executive Vice President David Shaw. "The winner is often someone who provides considerable service to others as a part of their commitment. We are blessed here at MSU with a number of very fine teachers in our classrooms."
During his lecture, Kardos discussed some of the paradoxes related to his classes and to teaching in general. He noted that mastering the mechanics and craft of writing is essential, but these tools are insufficient without other skills, and that planning is essential to teaching, but the best lesson plans don't always create the best class sessions.
"Students will forget a lot of details from class, but passion sticks, and so does curiosity," Kardos said.
A New Jersey native, Kardos earned an undergraduate degree in music from Princeton University. He also received a Master of Fine Arts in fiction from Ohio State University and a Ph.D. from the University of Missouri. His award-winning short stories have appeared in magazines and anthologies, such as The Southern Review, Crazyhorse and Pleaides.
MSU is Mississippi's leading university, available online at www.msstate.edu.