Contact: Sarah Nicholas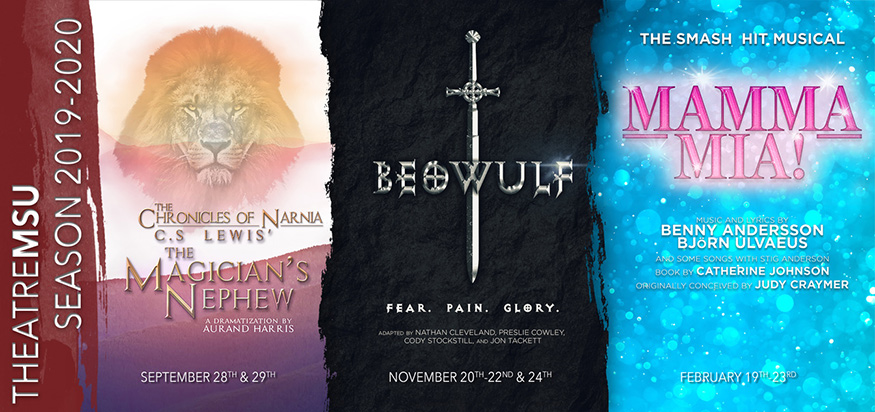 STARKVILLE, Miss.—Mississippi State's Theatre MSU debuts its new season this month with "The Magician's Nephew," a theatrical dramatization of one of C.S. Lewis's Narnia series classics.
The Department of Communication's production division, Theatre MSU also is announcing this season's performances will include "Beowulf" and "Mamma Mia." All are slated for the McComas Hall main stage.
Cody Stockstill, assistant professor and coordinator of the department's theatre concentration, said these performances highlight the power and importance of human connection.
"Whether it be friendship or familial connection, human connection is a vital aspect to everyone's life," Stockstill said. "Theater is about story, and we are really excited to share these familiar stories with the MSU and Golden Triangle communities."
Beginning Sept. 25, "The Magician's Nephew"' opens with a matinee presentation for local school children. Lewis's 1955 book by the same title and this dramatization by Aurand Harris follow the journey of two children through a mythical kingdom as they seek a magical apple to cure an illness. Matinee shows are scheduled for the general public Sept. 28 and 29 at 2 p.m.
"The production will be extremely visual and include several large puppets," Stockstill said. "This is our annual Theatre for Youth Performance, a tradition which Theatre MSU has offered for over 30 years."
Theatre MSU will present an original adaptation of "Beowulf," with 7:30 p.m. performances on Nov. 20-22 and a 2 p.m. performance on Nov. 24. MSU's adaptation is written by Stockstill and MSU communication/theater majors Nathan Cleveland of Dennis; Preslie Cowley of Cleveland and Jon Tackett of Coldwater.
Considered by scholars worldwide to be one of the most important works of Old English, the epic poem follows the battles and triumphs of warrior Beowulf. A medieval manuscript with no known date of origination, most scholars agree the original copy of Beowulf is approximately 1,000 years old. The large-scale production features "visual thrills and effects for audiences," Stockstill said.
Theatre MSU's Feb. 19-23 production of the Broadway musical "Mamma Mia" will complete the season, with 2 p.m. and 7:30 p.m. performances. Originally released in 1999 as a stage musical in London, "Mamma Mia" debuted on Broadway in 2001 and was developed in 2008 as a movie production starring Meryl Streep and featuring songs from the pop group ABBA. The play follows the lives of a mother and daughter as they interact with friends and former suitors to plan a wedding.
Additionally, Theatre MSU and the Department of Communication continue a decades-old tradition of hosting high school theater groups in December for an annual festival.
"We have 17 to 18 high school theater groups participate and present one-act plays for adjudication by theater professionals," Stockstill said. "This is a great opportunity to highlight the outreach Theatre MSU and the department offers state secondary theater programs."
Tickets for all Theatre MSU productions can be purchased at the door prior to each performance or in advance at www.events.msstate.edu. Tickets are $12 for "The Magician's Nephew" and "Beowulf" and $15 for "Mamma Mia" for general admission, and $7 for "The Magician's Nephew" and "Beowulf" and $10 for "Mamma Mia" for MSU students and children under the age of 12.
MSU's Department of Communication is online at www.comm.msstate.edu. Follow Theatre MSU on Facebook, Twitter, and Instagram @TheatreMSU.
MSU's College of Arts and Sciences includes more than 5,300 students, 300 full-time faculty members, nine doctoral programs and 25 academic majors offered in 14 departments. Complete details about the College of Arts and Sciences may be found at www.cas.msstate.edu.
MSU is Mississippi's leading university, available online at www.msstate.edu.