Contact: Amy Cagle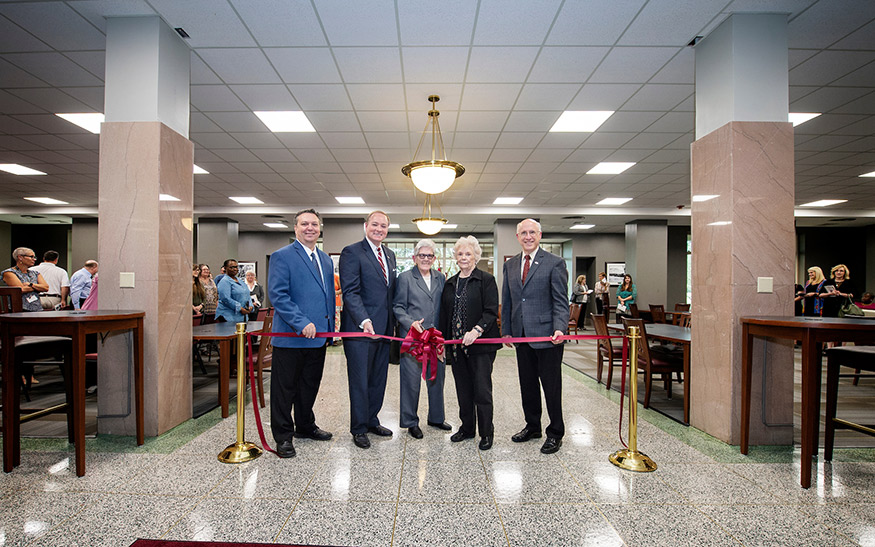 STARKVILLE, Miss.—Overlooking Mississippi State's historic Drill Field in the heart of campus, a newly transformed area in Mitchell Memorial Library gives students a vantage point to appreciate the university's beauty while devoting essential time to their academic studies.
A gift from alumna Janice I. Nicholson of Florence, Alabama, makes possible the James W. Nicholson Reading Room, a tribute to her late brother, which was dedicated in campus ceremonies today [Oct. 3].
The James W. Nicholson Reading Room honors the legacy of the Mississippi educator and two-time MSU alumnus and represents the importance of education in a family of loyal and passionate Bulldog graduates. James Nicholson, a Glen Allan resident, died in 2017, and Janice, his younger sister and the room's benefactor, chose to honor him at the university from which they both earned education degrees before forging similar career paths as longtime educators.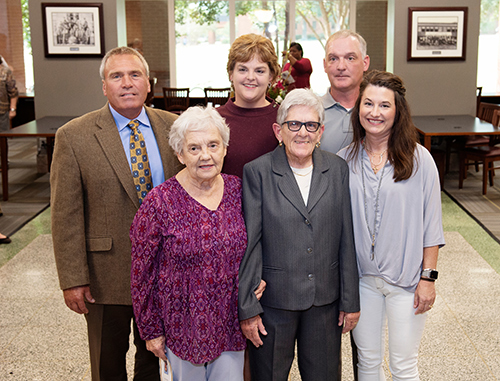 "My brother James and I were truly lifelong friends, and it brings me great pleasure to associate his name with MSU in this meaningful way," Janice Nicholson said. "A library is the center of education and naming this space within the MSU campus is a fitting tribute to his life and career."
Located behind Einstein Bros. Bagels on the library's second floor, the reading room provides a state-of-the-art environment featuring two presentation areas and structured and casual seating. Janice Nicholson's gift also creates an endowment to maintain the space over time.
Janice Nicholson fondly recalls growing up with her brother in Booneville. Their parents, James and Lena Rivers Nicholson, stressed the importance of education, and throughout their lives, the siblings carried the belief that education brings great opportunity.
 "Education is an important equalizer for all people, and we both put that philosophy into practice in our careers, sharing a common bond as teachers and administrators as we helped educate students across the South," she said.
She continued, "James positively impacted students during his lifetime, many of them in the Mississippi Delta, and his impact will always be felt by MSU students because of the study room's offerings."
From Mississippi State, James Nicholson earned bachelor's and master's degrees in education in 1965 and 1970, respectively, and later his Ph.D. from the University of Mississippi. He served in public education as a high school teacher, community college instructor, high school principal, assistant superintendent and superintendent. After retiring as superintendent of Anguilla Public Schools in Sharkey County, he continued his career as executive director of the Delta Area Association for Improvement of Schools, housed at Delta State University. He also was a longtime District 3 secretary of the Mississippi High School Activities Association.
"The James W. Nicholson Reading Room will serve thousands of students over the course of their academic pursuits," said Frances Coleman, dean of University Libraries. "We are grateful for the generous support of Janice Nicholson and the opportunity to prominently honor an outstanding educator in Dr. James Nicholson within the Mitchell Memorial Library."
Janice Nicholson earned master's and doctoral degrees from MSU in 1967 and 1977, respectively, along with an undergraduate degree from Blue Mountain College and an education specialist degree from Vanderbilt University. For 37 years, she was with the University of North Alabama in teaching and administrative positions, and she is a professor emerita of the institution. She also is retired as executive vice president for Student Affairs and Graduate and Special Programs from Blue Mountain College. From 2015-2017, she was interim head of the Department of Curriculum, Instruction and Special Education at Mississippi State. At MSU, along with the reading room, her financial support extends to several student scholarships, a faculty award, and athletics, in particular women's basketball.
For more information on supporting MSU Libraries or the College of Education, contact Trish Cunetto, director of development for the units, at 662-325-6762 or tcunetto@foundation.msstate.edu.
MSU is Mississippi's leading university, available online at www.msstate.edu.