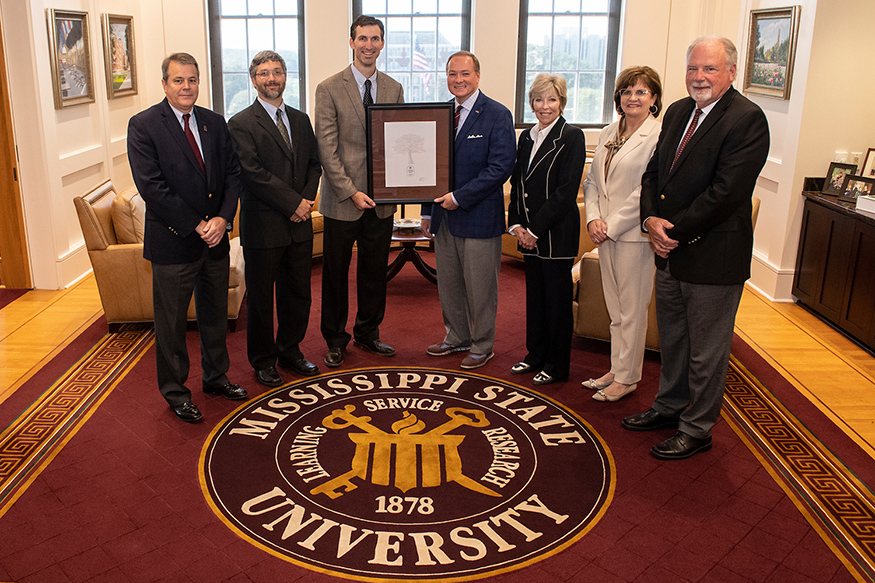 Contact: James Carskadon
STARKVILLE, Miss.—The Tennessee Valley Authority is again recognizing Mississippi State University for its efforts in improving energy efficiency and reducing carbon emissions.
For the second consecutive year, MSU is among seven winners of TVA's Carbon Reduction Awards for having the lowest carbon emissions among businesses in the TVA region served by local power companies. The award recognizes MSU for going "above and beyond" in efforts to have low carbon emissions in calendar year 2018.
"We are proud to recognize companies across the Valley that are meeting their energy needs with lower carbon emitting resources or have taken steps over the past year to reduce the carbon associated with their energy consumption," said Dan Pratt, TVA vice president of Customer Delivery.  "This award both honors these companies and encourages others to look at ways they can join us in improving their carbon impact."
Through several environmental initiatives, MSU has been able to substantially reduce energy consumption and carbon emissions, saving more than $60 million in utility costs since 2006. Over that same time, energy usage per building square foot has been reduced by over 40 percent. MSU is served by Starkville Utilities.
"Our sustainability initiatives have had a tremendous positive impact on the university, and this success would not be possible without widespread support from the campus community," said MSU Vice President for Campus Services Amy Tuck. "I look forward to working with our team, as well as Starkville Utilities and TVA, as we continue to improve energy efficiency on the MSU campus."
In 2018, MSU's CO2 emission rates were 22.8 percent below national averages and 34.8 percent below regional averages, based on data from the U.S. Environmental Protection Agency's Emissions and Generation Resource Integrated Database.
"This award is confirmation that MSU continues to be a good steward of the resources we utilize," said J.D. Hardy, MSU's associate director of engineering services. "Our ongoing efforts to operate MSU's facilities as efficiently as possible not only reduce our operation costs but also have a direct effect on the university's emission rates."
Efforts to improve efficiency include initiatives such as regular monitoring and reporting of energy consumption; converting old, inefficient boiler technologies to new high efficiency models; upgrading and expanding computer-based control systems; optimizing equipment/building scheduling; retrofitting from fluorescent to LED lighting technology; applying lighting control devices such as occupancy sensors; retro-commissioning of older building systems and adding the MSU Ice Plant.
The Tennessee Valley Authority is a corporate agency of the United States that provides electricity for business customers and local power companies serving nearly 10 million people in parts of seven southeastern states.
MSU is Mississippi's leading university, available online at www.msstate.edu.