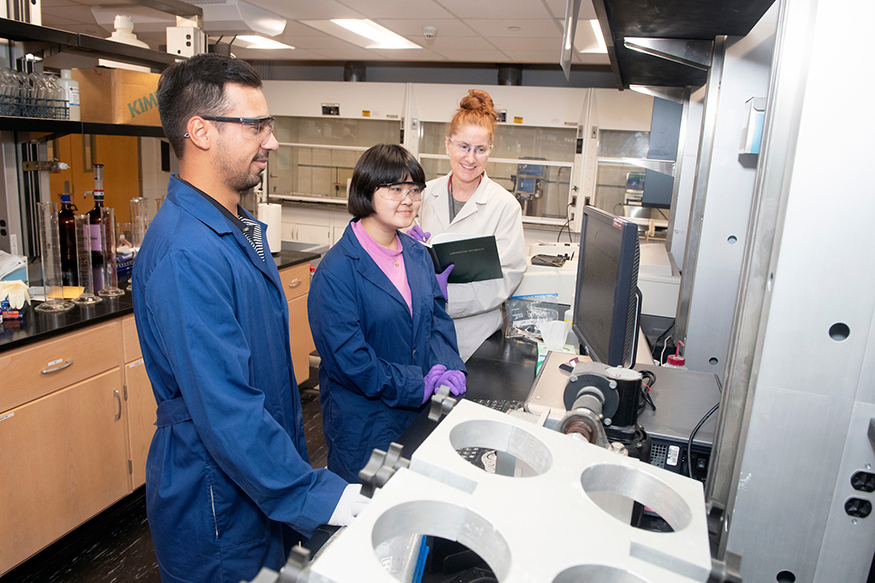 Contact: James Carskadon
STARKVILLE, Miss.—A longstanding partnership between Mississippi State and the Mississippi School for Mathematics and Science is giving high school students the opportunity to get hands-on research experience in a university setting.
Since the early 2000s, MSMS students have been working with Mississippi State faculty in their research labs to gain a better understanding of academic and professional opportunities in science.
"These students are in labs talking to undergraduates, graduate students and faculty members," said Teresa Gammill, Mississippi State assistant vice president for research. "They're getting additional mentoring that they would not have gotten otherwise, and they're getting involved in the research to the extent that they can discover which areas they like. This program couldn't run without our dedicated faculty, who work hard to get the students involved and make it a beneficial experience."
The program is coordinated in Mississippi State's Office of Research and Economic Development by Gammill and Lynn Taylor, administrative assistant to the vice president, and Elizabeth Morgan, a chemistry instructor at MSMS. Approximately 15 MSMS students participate in the program every semester and, based on their research interests, are paired with faculty members.
"Part of our MSMS mission is to provide innovative, unique learning experiences for our students," Morgan said. "By partnering with Mississippi State, we are able to let our students experience academic research labs as high school juniors and seniors, providing a window into their potential futures. We are always grateful to the Mississippi State professors and graduate students who mentor our students and help them see what could lie ahead for them."
MSMS students have presented their work among college students at MSU's annual Undergraduate Research Symposium. Several students in the program have gone on to enroll at Mississippi State and work with faculty members they studied under as high school students.
"It's never lost on me how important this program can be for students," Taylor said. "We could match somebody with a researcher, and it could change the course of their life and career path."
Among the students taking part in faculty-guided research this fall is Jane Wang, a Starkville native and senior at MSMS. With both of her parents working at Mississippi State, Wang has been exposed to research for most of her life. However, she said her experience this semester has been a good opportunity to get hands-on experience. She is working under the direction of Ashli Brown Johnson and Darrell L. Sparks, associate professors in Mississippi State's Department of Biochemistry, Molecular Biology, Entomology and Plant Pathology. Brown Johnson and Sparks are also serving as the Mississippi State Chemist and Associate State Chemist, respectively, at the Mississippi State Chemical Lab.
"I was really interested in learning more about what my family does in the process of research because they're all scientists," Wang said. "It's been really fun and exciting to learn more about the research process and what all goes on in the lab."
For more on the Mississippi School for Mathematics and Science, visit www.themsms.org.
MSU is Mississippi's leading university, available online at www.msstate.edu.