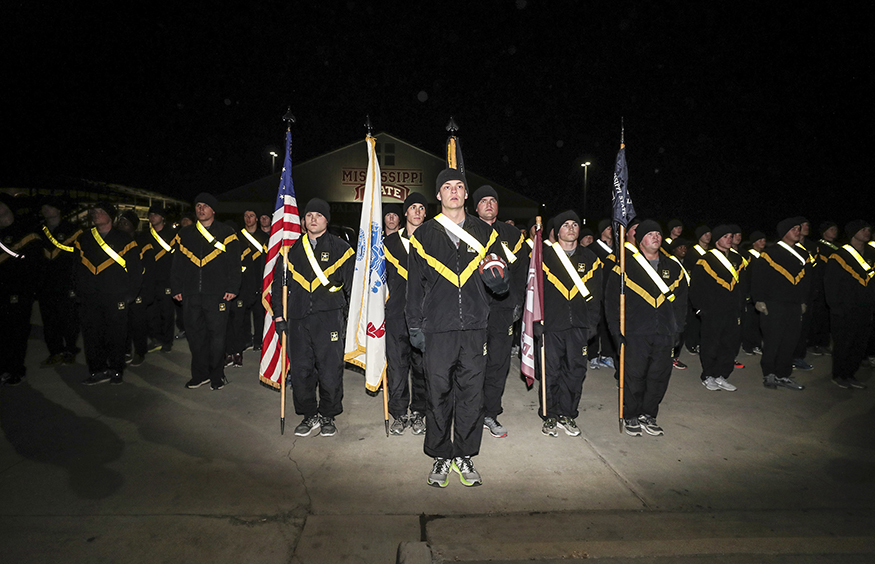 Contact: James Carskadon
STARKVILLE, Miss.—An Egg Bowl tradition will be renewed Monday [Nov. 25] when Mississippi State University and University of Mississippi Army ROTC cadets partner for the seventh annual Egg Bowl Run.
Army ROTC cadets will carry a football from Oxford to Starkville, leaving Ole Miss before dawn and arriving in Starkville on Monday evening. Ole Miss cadets will carry the ball from Oxford to Calhoun City, where they will hand the ball off to MSU cadets for the second leg of the nearly 100-mile run continuing to Starkville. The transfer of the ball will take place at noon at the gazebo in the Calhoun City square.
"The Egg Bowl run is an exciting tradition that enables future leaders to come together and engage with the surrounding community," said Lt. Col. David Sarrette, an MSU professor of military science. "It also provides a field of competition while bringing these young men and women together to accomplish a common goal, much like their future careers. It demonstrates how competition can be healthy and shows how we can work together to reach goals and complete missions."
The ceremonial game ball will be delivered to MSU football coach Joe Moorhead at the completion of the run on Monday evening. It will be signed by Moorhead and UM head coach Matt Luke. The Bulldogs and Rebels will face off Thursday [Nov. 28] in the Egg Bowl at 6:30 p.m. in MSU's Davis Wade Stadium. The rivalry game will be televised on ESPN.
For more information on MSU's Army ROTC, visit www.armyrotc.msstate.edu or visit the Bulldog Battalion on Facebook at Facebook.com/msuarmyrotc.