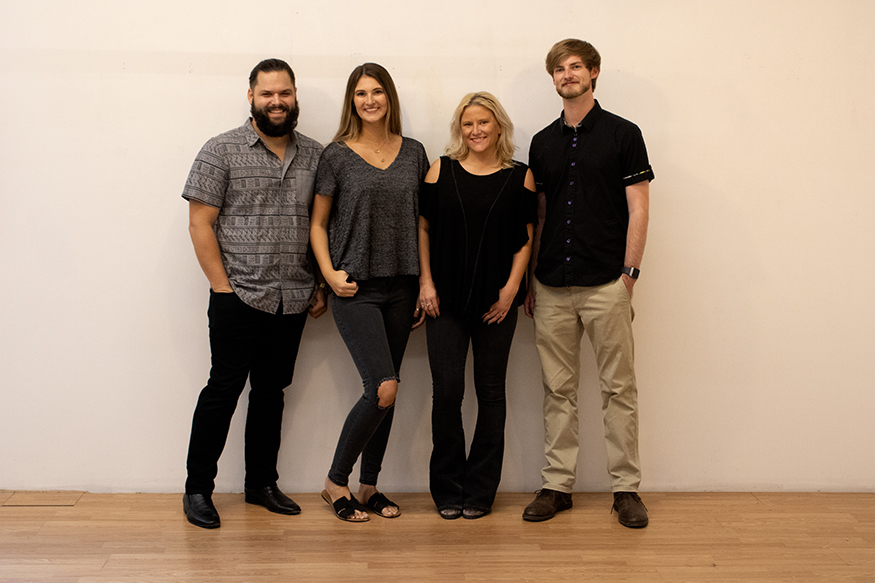 Contact: Sasha Steinberg
STARKVILLE, Miss.—Four dedicated Mississippi State art/graphic design majors are showcasing a variety of creative work Dec. 4-10 at the university's Visual Arts Center Gallery.
"CMYK" celebrates the seniors' completion of studio work in MSU's Department of Art, the state's largest undergraduate studio art program. The fall semester graphic design thesis students are under the instruction of Assistant Professor Claire Gipson.
"CMYK is an abbreviation for cyan, magenta, yellow and key (black). It is a method for combining primary pigments to create nearly any color of our visible spectrum," said student exhibitor Stephen C. Latham of Flowood. "Just as the colors for CMYK combine to create a variety of colors, these four graphic designers have come together to create a professional level exhibition."
The students' portfolio books and self-promotional pieces will be available for viewing on opening night, along with display pieces, web design, posters, editorials, advertising and illustrations. For a preview, visit www.cmyk2019.com and follow on Instagram @cmyk_2019.
A 6 p.m. public reception in the students' honor takes place Dec. 4 at the VAC Gallery, where complimentary refreshments will be available.
Gallery hours are 9 a.m.-5 p.m., Monday-Friday.
"CMYK" exhibitors include (by hometown):
BALDWYN—Canaan Griffin.
CLARKSDALE—Ann Gray Flowers.
FLOWOOD—Stephen C. Latham.
MADISON—Jessica L. "Jessie" Gehrett.
For more on the College of Architecture, Art and Design and its Department of Art, visit www.caad.msstate.edu.
MSU is Mississippi's leading university, available online at www.msstate.edu.