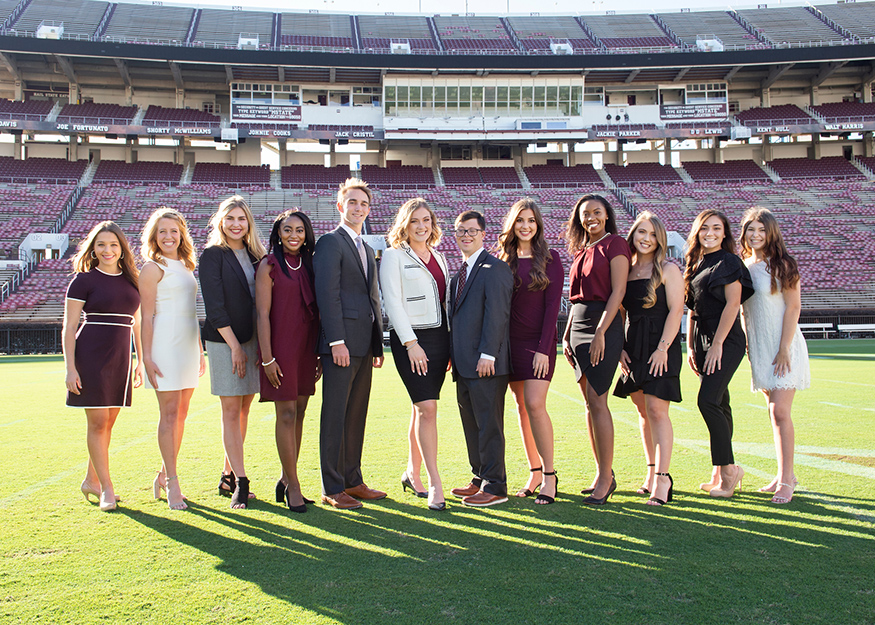 Contact: Anna Owens
STARKVILLE, Miss.—Mississippi State's Student Association will kick off this year's Homecoming celebration Sunday [Nov. 17] during a special service at the Chapel of Memories, with numerous activities continuing throughout the week.
Free to all and open to the public, the 5 p.m. program will allow the Starkville and MSU communities to meet the 2019 Homecoming Court.
"There's No Place Like HOMEcoming" is the theme of this year's traditional fall reunion for MSU students, employees, alumni and their families. All Homecoming events can be viewed at https://bit.ly/36BVyiF.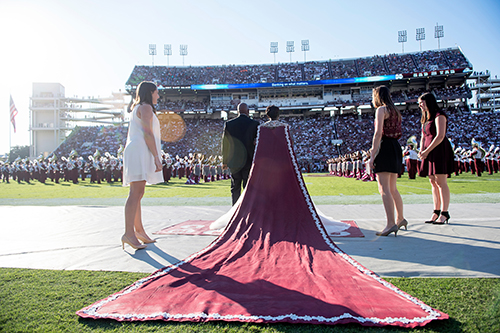 New this year is Battle for the Bulldog, or B4B, a campus-wide competition hosted by the SA. All eight academic colleges will have the opportunity to earn points by participating in eligible events throughout the week. The winning college will be announced during the Homecoming football game and receive the B4B trophy. For more information, visit www.sa.msstate.edu.
MSU's Center for Student Activities also is sponsoring a door decorating competition with categories that include departments and colleges, student organizations, fraternity and sorority chapters and residence halls. Interested participants can decorate office doors or entrances to their buildings, but must have building manager approval prior to starting their designs. The CSA also can assign participants a door to decorate if needed.
A separate competition for house or lawn displays will be held for fraternity and sorority chapters.
All door decorations, as well as house or lawn decorations, must be completed before judging on Wednesday [Nov. 20]. Category winners will receive a pizza party for their office or organization, or a $500 event credit to Event Services. Interested departments or student organizations can fill out the competition interest form and view the full guidelines and judging criteria online at https://bit.ly/34IeoTv.
Additional Homecoming Week 2019 events include:
—Monday [Nov. 18], 8-10 a.m., "Pancakes on the Patio," Colvard Student Union patio near the Drill Field. Students can get free pancakes and meet MSU Homecoming Queen Rachel L. Dumke of Franklin, Tennessee, Homecoming King Spencer M. Kirkpatrick of Tupelo, as well as Mr. MSU Michael Weeks of Madison and Miss MSU Reagan M. Moak of Brandon.
—Monday [Nov. 18], all day, B4B Photo Scavenger Hunt, students can explore various locations across campus and take snapshots along the way.
—Tuesday [Nov. 19], 11 a.m.-2 p.m., a T-shirt swap on the Drill Field, participants can donate a shirt in exchange for a free Homecoming 2019 shirt.
—Tuesday [Nov. 19], 6-8 p.m., B4B Trivia Night at Barnes & Noble at MSU, colleges compete head to head and test their knowledge. Two teams of four can compete for each college.
—Wednesday [Nov. 20], 7:30-9:30 p.m., Campus Movie Fest, the world's largest student film festival, will showcase movies submitted by MSU students at its premier event. A pre-show reception will be held in Lee Hall's Bettersworth Auditorium. The top four movies will be selected for jury awards, and the winners will represent MSU in June 2020 at Campus Movie Fest Finale, an international film summit in Atlanta, Georgia.
—Wednesday [Nov. 20], 11 a.m.-1 p.m., hosted by the SA, Block for Block Hot Chocolate will offer the free beverage outside Perry Cafeteria. MSU students with a valid meal plan can donate one block meal to the Block by Block meal program, a virtual food bank that helps Bulldogs in need.
—Thursday [Nov. 21], 11 a.m.-2 p.m., "There's No Place Like Home," tabling event in the Colvard Student Union Plaza showcases Bulldog diversity, and students can drop a pin on the world map location they call home.
—Thursday [Nov. 21], 11 a.m.-5 p.m., Food Truck Thursday, features food from local vendors in the Colvard Student Union Plaza.
—Thursday [Nov. 21], 5-7 p.m., B4B Field Day on the Drill Field, colleges can compete in tug-of-war, ping pong, dodgeball and an obstacle course to earn points. One team of three participants can represent each college in every activity except dodgeball, which will be held from 6-7 p.m. and have one team of nine participants per college. The event will be held in the Newell-Grissom Building in the event of inclement weather.
—Friday [Nov. 22], 11 a.m.-2 p.m., Photo booth on the Drill Field, Bulldog students can showcase their spirit and commemorate Homecoming 2019.
—Friday [Nov. 22], 7-9 p.m., MSU National Pan-Hellenic Council annual Homecoming Step Show at the Newell-Grissom Building. Each of the university's historically black, Greek-letter organizations will present strolling and stepping performances. Admission is $10 per person for MSU faculty, students and the general public. Tickets available at www.events.msstate.edu. A free concert featuring Georgia R&B artist Jacquees will follow.
Homecoming Week concludes Saturday [Nov. 23] with the MSU vs. Abilene Christian football game kicking off at 6:30 p.m. at Davis Wade Stadium. The Homecoming Court, including this year's Mr. and Miss MSU, will be presented at halftime ceremonies. For more gameday information, visit www.hailstate.com/gameday.
For more Homecoming Week information, visit MSU's Student Association online at www.sa.msstate.edu, as well as on Twitter and Instagram @MSU_SA and Facebook @MSUStudentAssociation.
MSU is Mississippi's leading university, available online at www.msstate.edu.