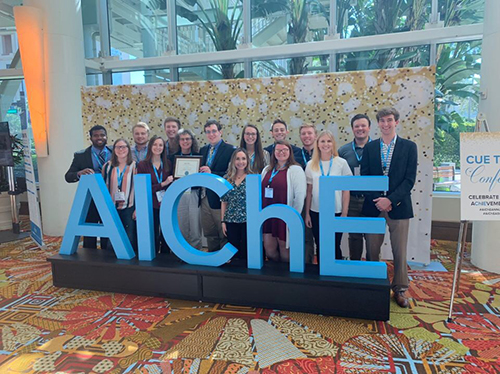 Contact: Sasha Steinberg
STARKVILLE, Miss.—For the 18th time in the past 19 years, The American Institute of Chemical Engineers is honoring Mississippi State with the Outstanding Student Chapter Award.
MSU's student chapter is receiving the 2018-19 award for exceptional student and faculty participation, enthusiasm, program quality and variety, professionalism, and university and community involvement.
Bill B. Elmore, director and associate professor in MSU's Dave C. Swalm School of Chemical Engineering, said MSU's AIChE student chapter has received the Outstanding Student Chapter Award for 28 of the honor's 50 years in existence.
"That's pretty incredible for any AIChE student chapter—especially considering that the national AIChE office has traditionally only given the award to about 10 percent of the active student chapters annually," said Elmore, who holds the department's Earnest W. and Mary Ann Deavenport Jr. Chair.
The recognition was formally presented earlier this month in Orlando, Florida, at the annual student conference hosted by AIChE, the world's leading organization for chemical engineering professionals.
MSU's student chapter is among more than 30 from around the world receiving this award.
Along with a plaque for the MSU chapter, AIChE presented certificates to 2018-19 co-presidents Kassidy B. Adams of Jackson, Missouri, and Andrew J. Weaver of Lorton, Virginia, both seniors in the Swalm School of Chemical Engineering. Adams also received the AIChE's Donald F. and Mildred Topp Othmer Scholarship Award.
All chemical engineering majors, other MSU honorees include senior Isaac E. Clapp of Brandon, Donald F. Othmer Sophomore Academic Excellence Award; senior Deonante M. Frazier of Utica, Minority Affairs Committee Scholarship Award for College Students; sophomore Jacob Fisher of Olive Branch, Freshman Recognition Award; and senior Woodrow N. "Woody" Wilson of Savannah, Tennessee, 2nd place in the Computing and Process Control II division for his poster "Binding of Lignin Dimers on MWW-2D Zeolite: Solvothermal Effect Study."
Julie Jessop, associate director and Hunter Henry Chair in the Swalm School of Chemical Engineering, is a professional member of the AIChE who was recognized for her work as the MSU student chapter adviser.
Congratulating Jessop and her students on this accomplishment, MSU Bagley College of Engineering Dean Jason Keith said, "I have been continuously amazed with the quality of student and faculty leadership in AIChE, and look forward to more great work from our chapter."
Like Elmore, Keith holds the department's Earnest W. and Mary Ann Deavenport Jr. Chair.
Learn more about MSU's Bagley College of Engineering and the Swalm School of Chemical Engineering at www.bagley.msstate.edu or www.che.msstate.edu.
Headquartered in New York, AIChE is the "global home" to more than 60,000 members from more than 110 countries. For more, visit www.aiche.org.
MSU is Mississippi's leading university, available online at www.msstate.edu.