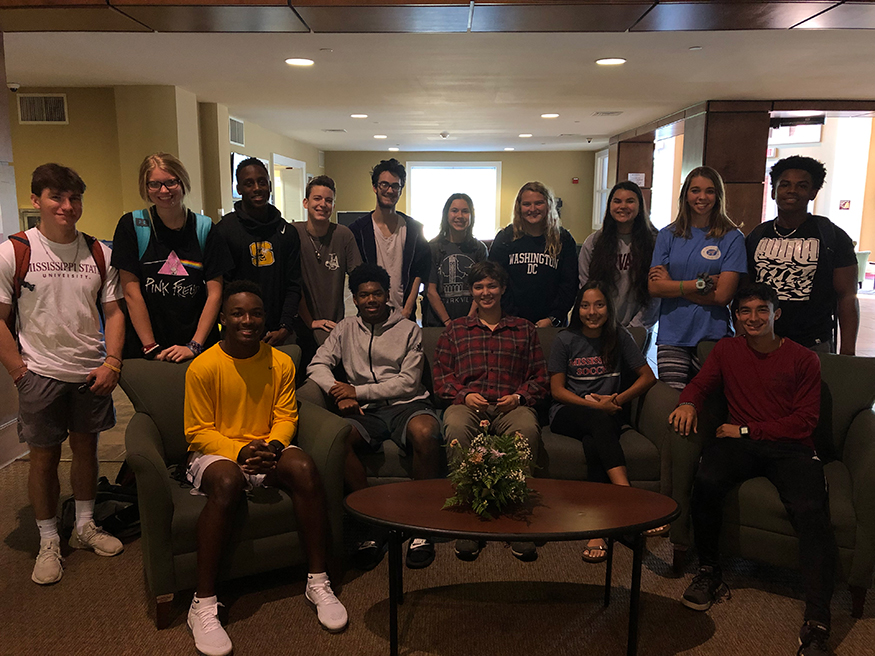 Contact: Sasha Steinberg
STARKVILLE, Miss.—Fifteen of Starkville High School's best and brightest students are receiving dual academic credit through the Early Honors Academy, a new semester-long program organized by Mississippi State's Judy and Bobby Shackouls Honors College and the Starkville Oktibbeha School District.
The students were invited to apply based on their academic résumé, interviewed by SHS personnel and selected based on the strength of their composite credentials, using a rubric created through a collaboration between the Shackouls Honors College and SOCSD.
Along with taking MSU honors classes on Monday through Thursday mornings, the high schoolers have the opportunity to visit the Starkville campus on Friday mornings for individual meetings with MSU Honors Faculty Fellow and Assistant Professor of English Eric Vivier and MSU Assistant Clinical Professor of Honors Education Angela Farmer. This semester, Vivier is teaching a "Quest I" course; Farmer, a course on "The Most Influential Scientists of the 20th Century."
Farmer said the Early Honors Academy is receiving positive responses from current and prospective participants, and she said the honors college and SOCSD hope to continue this collaboration.
Chris Snyder, professor of European history and honors college dean, said he has enjoyed working with SOCSD Superintendent Eddie Peasant to "provide a perfect link for our future Shackouls Honors College students to begin their journey today."
"By participating in discussions in classes with our faculty, stretching their intellectual curiosity, and beginning their acclimation to university life today, Early Honors Academy students have the rare benefit of gaining dual credit both as a high school student and a future honors scholar," Snyder said.
Additional information on the Early Honors Academy is available by calling 662-325-2522 or contacting Farmer at afarmer@honors.msstate.edu or Snyder at csnyder@honors.msstate.edu.
Learn more about the Shackouls Honors College at www.honors.msstate.edu.
MSU is Mississippi's leading university, available online at www.msstate.edu.