Contact: Sasha Steinberg
STARKVILLE, Miss.—During this season of giving, Mississippi State is recognizing four outreach projects with the university's second annual Community Engagement Awards.
Two awards—winner and honorable mention—were given in four categories. These include community-engaged service; community-engaged teaching and learning; community-engaged research; and scholarship of engagement.
Winning projects received $3,000, and honorable mention projects were awarded $750 to further community-engagement activities. To be honored with a spring 2020 reception, recipients were selected by MSU's Center for Community-Engaged Learning, Office of the Provost and Executive Vice President, Office of Research and Economic Development, and the Division of Student Affairs.
Honorees include (by category):
COMMUNITY-ENGAGED SERVICE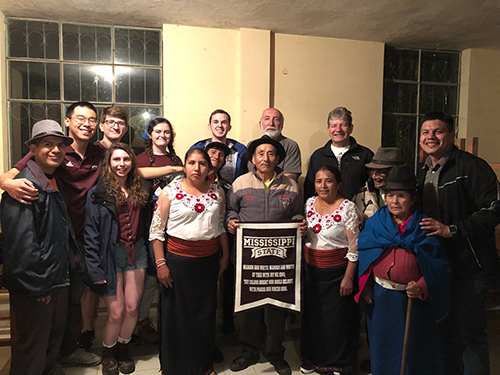 Winner—"Water Distribution in Ecuador," submitted by Craig A. Schexnaydre, a junior civil engineering major from Covington, Louisiana, and co-project manager of MSU's Engineers Without Borders chapter. This second international project for MSU's EWB chapter included 75 students, two faculty and one staff member partnered with local government and residents to find a sustainable solution for major water problems in the Ecuadorian agricultural community of Santa Teresita.
Honorable Mention—"MSU Community Garden," submitted by Suzanne Powney, MSU associate professor of art and inaugural MSU Community-Engaged Learning Fellow. A sustainable space for teaching, research and outreach in support of local food systems, this garden was designed and built using an integrated project delivery methodology with architecture, landscape architecture and graphic design majors in MSU's College of Architecture, Art and Design. Community partners include MSU's Students for a Sustainable Campus and the Oktibbeha County Master Gardeners. More than 300 community members in the garden's first year, and it has received awards from the American Society of Landscape Architects and the American Institute of Architects' Mississippi chapter.
COMMUNITY-ENGAGED TEACHING AND LEARNING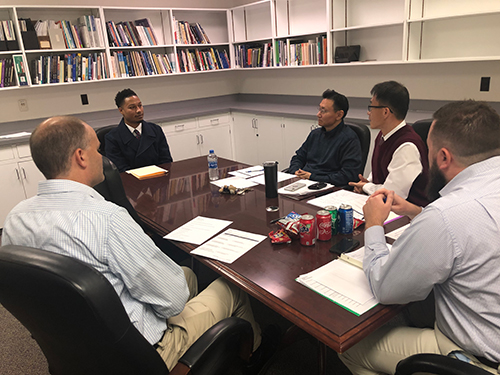 Winner—"IT Internships," submitted by Pamela Scott Bracey, an MSU associate professor in the Department of Instructional Systems and Workforce Development who this fall was named the National Business Education Association's Collegiate Teacher of the Year for 2019. Community partners include Christian World Ministries, Local Community Learning Foundation, VMsquared, and Angela Latham Designs. The project also was supported by six faculty, four staff and 14 current students, with more than 180 students contributing in the last six years. Undergraduates in Bracey's fall Senior Seminar in Information Technology Services course participated in various nine-week service projects to assist local small businesses and nonprofit groups in meeting their technological needs, such as websites, social media, brochures and logos. Bracey said while shaping future curricular goals, this ongoing project has opened doors to multiple mentoring partnerships, including internships and career options for students.
Honorable Mention—"Ripley Visioning and Master Plan," submitted by Leah Kemp, director of MSU's Fred Carl Jr. Small Town Center housed in the College of Architecture, Art and Design. Combining the center's planning, design and implementation expertise with the data analytics of MSU's National Strategic Planning and Analysis Research Center, the project established goals and objectives for land use, housing, transportation and other infrastructure as part of a 20-year master plan for the town of Ripley. To leverage community impact, the CSTC led two additional projects as part of the larger master plan. The first involved a partnership with students in a fourth-year MSU architecture studio to develop a site plan and designs for Ripley's First Monday Trade Days market. For the second one, CSTC taught a "CREATE: Common Ground" design seminar on community engagement and downtown improvements. Using community member feedback, the CSTC offered and continues to provide planning and design recommendations for adoption and implementation by town leaders to catalyze future growth and development benefitting the local economy.
COMMUNITY-ENGAGED RESEARCH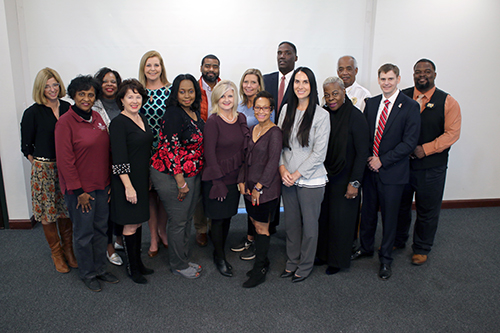 Winner—"Meridian Leadership Council," submitted by Christina Loftin, an inaugural MSU Community-Engaged Learning Fellow and current graduate teaching assistant in the Department of Sociology. Formed in 2015 with community leaders, residents and stakeholders, the Meridian Leadership Council has partnered with MSU researchers to acquire funding for implementation of evidence-based, crime-fighting solutions for Meridian, including its East End neighborhood. This led to a Meridian Police Department officer's training in the Gang Resistance Education and Training curriculum, re-opening of a police substation, and the Boys and Girls Club of East Mississippi Career Launch and summer internship program, all suggested by MSU researchers. MSU was awarded Research Network on Misdemeanor Justice funding and continues to work with the MPD and municipal court to analyze trends in misdemeanor enforcement and court processing. Collaboration with MSU also has led the U.S. Attorney's Office in Mississippi's southern district to launch Project E.J.E.C.T., a multi-faceted approach to crime prevention in Meridian. The MLC continues to form partnerships to meet diverse community needs.
Honorable Mention—"Oktibbeha Food Policy Council," submitted by Diego Thompson, MSU assistant professor of sociology, Oktibbeha County Food Policy Council coordinator, Mississippi Food Insecurity Project member, and Mississippi Food Policy Council board member. Since 2016, a group of MSU faculty, staff and community stakeholders has worked to study and address food insecurity, local access to healthy foods, and food systems development in Oktibbeha County. This summer, OFPC entered two partnerships—one with Starkville Parks and Recreation to develop a farmers' market at J.L. King Senior Memorial Park, and one with the City of Maben and the Mayor's Health Council to create a community garden for residents.
SCHOLARSHIP OF ENGAGEMENT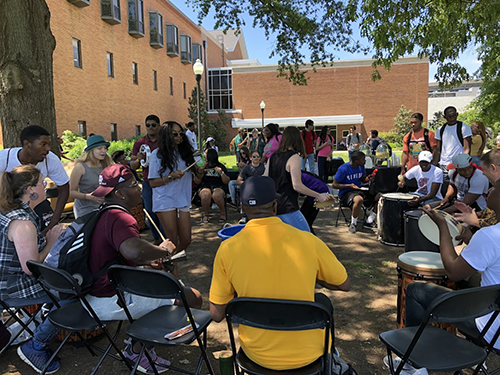 Winner—"Community Drum Circles," submitted by Robert Damm, MSU professor of music. This project encourages meaningful collaborations among MSU faculty, staff and students and those with special needs in the state through drum circle programs and other rhythm-based activities. Since 2014, 64 drum circles have helped an estimated 3,010 people with increased self-awareness and self-esteem, peer acknowledgement, enhanced listening, communication and teamwork skills, and more. This also has facilitated knowledge-sharing through scholarly publication and conference presentation. Four articles have appeared in the peer-reviewed Percussive Notes journal that is made available to 6,000 members. Two clinics and two Rhythm Discovery Day sessions for a national conference with 6,000 attendees, and two Percussive Arts Society Day of Percussion facilitations in Mississippi have led to peer recognition resulting in election to the PAS national-level committee on interactive drumming. Damm's work in drum circles also continues to inform his teaching and scholarship, including articles on drumming's positive effects on children with autism and the benefits of drum circles for students.
Honorable Mention—"Home, Place and Mississippi: A Cultural Diversity Literacy Project," submitted by Qiana Cutts. This project focuses on literacy enhancement for high school and university students of various racial identities majoring in English or English/Language Arts Secondary Education. While reading texts written by diverse authors including black Mississippians, students participated in film viewing, spoken work performance, written reflections, and a reception with well-known author Kiese Laymon. Cutts partnered with Louisville High School teacher Tracei Willis to co-select texts, create discussion prompts, engage with participants, and co-plan events. In addition to an Inclusion through Innovation grant from MSU's Office of Institutional Diversity and Inclusion, this was supported by Hollywood Premier Cinema in Starkville, the Starkville Community Theatre, and MSU's Poetry Club, Office of Admissions and Scholarships, and African American Studies program.
For more information on the Community Engagement Awards or the Center for Community-Engaged Learning, visit www.ccel.msstate.edu.
MSU is Mississippi's leading university, available online at www.msstate.edu.