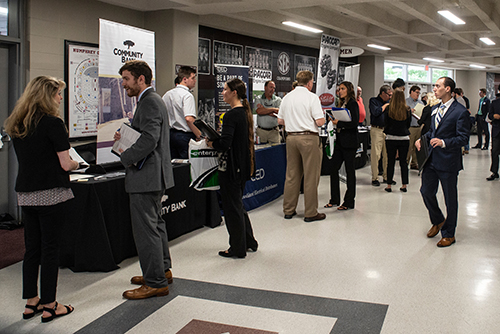 Contact: Sasha Steinberg
STARKVILLE, Miss.—Whether looking to land a co-op, internship, part-time or full-time position, Mississippi State students and alumni can explore a wealth of job opportunities by networking with more than 150 employers during the university's spring Career Expo.
The MSU Career Center's annual, free event takes place Jan. 28 and 29 from noon to 4 p.m. at Humphrey Coliseum.
Formerly known as Career Days, the expo allows alumni and students of all majors and classifications to attend at any time on both days, increasing flexibility for both the job seekers and employers. Recruiters in attendance represent a wide range of employers in agriculture, architecture, energy, finance, manufacturing and technology, among other fields.
Major companies and agencies include Caterpillar, Continental Tire, C Spire Wireless, Entergy Corporation, ExxonMobil, FedEx, Huntington-Ingalls, International Paper, PACCAR, Pictsweet, U.S. Army Corps of Engineers, and Youth Villages.    
Attendees can view the full list of employers by logging in to the Connections page at www.career.msstate.edu. Business professional attire is recommended, and participants should bring several copies of their résumé.
Noah A. Weathersby, a senior chemical engineering major from St. Louis, Missouri, said he encourages students to attend the Career Expo each semester of their college experience. Weathersby is completing his second internship and has already landed a full-time position to begin after graduation with Continental Tire, a Career Expo participant for several years. He started at Continental Tire's plant in Mount Vernon, Illinois, and is currently at its Clinton plant.
"I highly recommend going to the Career Expo because you can talk to people and learn about what they do on a daily basis," he said. "Your college major may not be exactly what you decide to do for a full-time job, so it's important to start researching and pursuing internships to help you get your name out there and figure out what job opportunities might be the perfect fit for you."
The Career Center will provide attendees with a name tag listing their major, classification and expected graduation date upon check-in. Students are encouraged to review the Connections site prior to the event to ensure their personal information is correct. 
The MSU Career Center also offers students mock interviews, résumé reviews and other resources for a solid beginning after graduation. The same services are available to alumni.
For more information, contact the Career Center at 662-325-3344 or askelton@career.msstate.edu.
MSU is Mississippi's leading university, available online at www.msstate.edu.