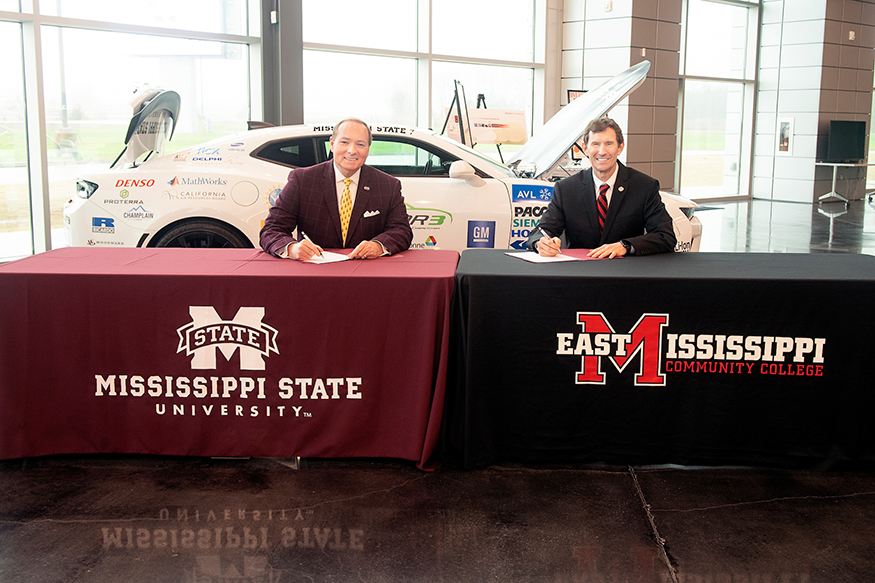 Contact: James Carskadon
STARKVILLE, Miss.—Mississippi State University and East Mississippi Community College signed a memorandum of understanding today [Feb. 12] at EMCC's Communiversity to formalize partnership programs for students enrolled in technical education programs.
The agreement outlines a pathway for EMCC students to complete MSU's new Bachelor of Applied Science program, leveraging the strengths of both institutions to provide more opportunities in technical education and meet current and future workforce demands.
"We need more two-year and four-year graduates to move Mississippi forward," MSU President Mark E. Keenum said. "By working together, I believe we'll be able to better assist our fellow Mississippians in gaining the education they need to compete for the jobs of the 21st century. We are committed to helping all of our BAS students excel, succeed, and earn a bachelor's degree—building on the excellent foundation they have been given at EMCC."
"The real beneficiaries of this partnership are our students and the community at large," EMCC President Scott Alsobrooks said. "This memorandum of understanding provides a pathway for our students to advance their education and their earning potential while meeting an industry demand for skilled workers. In the end, that means more dollars for our local economy and greater potential for future economic development efforts."
MSU launched its Bachelor of Applied Science program in August, significantly expanding the university's acceptance of technical credit from community colleges and military training. It is intended to serve the needs of adults who have completed a technical associate's degree program through a community college or the military and need additional education to advance their careers.
The agreement between MSU and EMCC outlines which courses must be completed at each institution to fulfill degree requirements. An MSU advisor will assist in guiding EMCC students through Bachelor of Applied Science program pathways. Additionally, EMCC and MSU will work together to provide classroom space for the delivery of synchronous online courses.
Students enrolled in the Bachelor of Applied Science program will have access to advisors from MSU-Meridian and MSU Online. Credits in the degree program can be earned through online or in-person courses, providing the flexibility that has become a hallmark of MSU's nationally ranked online offerings.
For more on the Bachelor of Applied Science program, visit https://www.msstate.edu/students/bachelor-of-applied-science.
East Mississippi Community College has seven locations to better serve its six-county district, offering a wide variety of academic and professional programs for the people of Clay, Kemper, Lauderdale, Lowndes, Noxubee and Oktibbeha counties in east central Mississippi. For more, visit www.eastms.edu.
MSU is Mississippi's leading university, available online at www.msstate.edu.