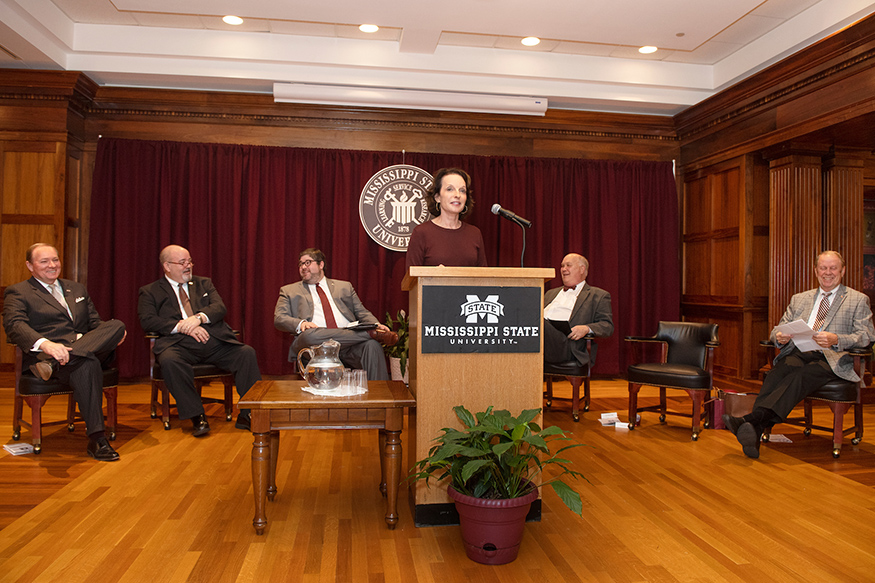 Contact: James Carskadon
STARKVILLE, Miss.—Wayne Weidie, a long-standing supporter of Mississippi State and the university's students, was celebrated Friday [March 6] as an internship program was established in his honor.
The late journalist and politico was the subject of MSU Libraries' 2020 Morris W.H. (Bill) Collins Speaker Series. After his death last August, Weidie's friends and family established the Wayne W. Weidie Internship program, which will help offset costs associated with participating in internships in Washington, D.C. and Jackson.
Weidie served as editor and publisher of the Ocean Springs Record and Gautier Independent from 1970-1990 before being named chief of staff for former U.S. Rep. Gene Taylor. After serving as chief of staff from 1990-2004, he worked as a governmental affairs consultant until his retirement in 2014.
During Friday's ceremony, MSU President Mark E. Keenum noted that when he was serving as chief of staff to former U.S. Sen. Thad Cochran, the senator would often ask Keenum to pick Weidie's brain about issues affecting the Mississippi Gulf Coast, the area Rep. Taylor represented. Keenum also recalled that the two were brought closer together in Washington by their shared passion for MSU.
"Wayne loved this university and invested back in this institution," Keenum said. "He believed in helping young people make their way in the world."
Cindy Stevens, an MSU alumna and former Deloitte LLP managing principal of government relations, remembered that when Weidie first arrived in Washington, he wanted to see increased representation from MSU among the elected officials and staffers, which he immediately started to try and change with a group of fellow MSU alums.
"He truly believed that you could do anything with a college degree, particularly, a degree from Mississippi State," Stevens said.
Weidie was instrumental in the establishment of the Stennis-Montgomery Association, which has supported students pursuing careers in politics. Marty Wiseman, former adviser to the association and former director of MSU's Stennis Institute of Government, said that when he prepared to take his first group of Stennis-Montgomery Association students to Washington, he needed help planning an itinerary. After a series of phone calls to Weidie, the group of students had appointments to meet with Republicans, Democrats, congressional staffers, military leaders and government affairs personnel, setting the bar for the group's annual trip.
"After that first trip, I realized that Wayne had one of the biggest rolodexes in D.C.," Wiseman said. "He was determined to make that a great experience for the students, and the results of his efforts are being manifested now."
Other speakers at Friday's ceremony included Mississippi Commissioner of Insurance Mike Chaney, MSU Chief Communications Officer Sid Salter and MSU Director of Governmental Support Lee Weiskopf.
In 1993, Weidie donated his professional and personal papers from his journalism and congressional career to the Congressional and Political Research Center at MSU Libraries.
The Morris W. H. (Bill) Collins Speaker Series is sponsored by the Stennis Center for Public Service, John C. Stennis Institute of Government, MSU Libraries Congressional and Political Research Center, and the Stennis-Montgomery Association. For more, visit www.lib.msstate.edu/collins.
MSU is Mississippi's leading university, available online at www.msstate.edu.