Contact: Allison Matthews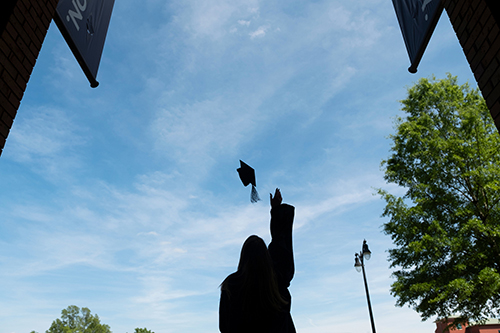 STARKVILLE, Miss.—Mississippi State is announcing emphasis areas for the university's celebrated new Bachelor of Applied Science degree program, designed to help more Mississippians finish a college degree and advance their careers.
MSU announced this new degree program last year to serve the needs of adults who have completed a technical associate's degree program through a community college or the military and need additional education to advance toward their career goals. The degree program offers a variety of online and in-person courses, with many offerings on MSU's main campus in Starkville and others offered at MSU-Meridian. MSU has signed BAS partnership agreements with the majority of Mississippi's community colleges, providing a clear pathway for two-year college students to make a seamless transition to the university and complete the BAS degree.
"To compete globally, nationally and here in Mississippi for the next generation of high-quality jobs, Mississippi needs an educated workforce with a myriad of technical skills that complement and enhance the intrinsic value of a four-year college degree," said MSU President Mark E. Keenum, upon announcing the program. "The Bachelor of Applied Science program is an enterprise in which Mississippi State can be a change agent for Mississippians seeking to be a part of that emerging workforce. We are hitting the ground running on the main campus, at MSU-Meridian and through the MSU Online campus."
The university now is sharing expanded emphasis areas in each of its eight academic colleges. These include:
College of Agriculture and Life Sciences: Ag Education, Leadership, and Communication; Agricultural Engineering, Technology and Business; Agricultural Machinery; Animal and Dairy Sciences/Equine Science; Biochemistry; Entomology; Forensics; Fashion Design and Merchandising—Retail; and Plant Pathology
College of Arts and Sciences: Communication/Broadcast; Communication/Theatre; Criminology/Sociology; Geoscience; History; and Psychology
College of Business: General Business
Bagley College of Engineering: Cybersecurity; and Operations Management Engineering
College of Education: Educational Psychology; Kinesiology; Special Education; Manufacturing Fundamentals; General Technology; and Veterans' Certificate
College of Forest Resources: Environmental Conservation; Forestry; Sustainable Bioproducts; and Wildlife, Fisheries and Aquaculture
Additional programs are still in development and being planned for the future. These include Building Construction Science in the College of Architecture, Art and Design and Veterinary Medical Technology in the College of Veterinary Medicine.
Two additional emphasis areas are based at MSU-Meridian, including Event and Hospitality; and Healthcare Services.
For more on the Bachelor of Applied Science degree, visit https://www.msstate.edu/students/bachelor-of-applied-science. Detailed information about emphasis areas is available by clicking here. Additional information is available by contacting Kristi Dearing, advising coordinator for MSU-Meridian, at kdearing@meridian.msstate.edu or 601-484-0229, or Kali Dunlap, coordinator for MSU's Center for Distance Education and Academic Outreach, at k.dunlap@msstate.edu or 662-325-8029.
MSU is Mississippi's leading university, available online at www.msstate.edu.